You've likely spotted a jade roller — either in a cheeky game of "I Spy" beauty-edition, mixed into an impressive lineup of well designed products in one of those flash-heavy Instagram edits (you know the ones), or exquisitely placed across pages of editorial spreads just like the one you've nonchalantly clicked into today. Put simply: jade rollers are popular. What began as an ancient Chinese ritual has quickly migrated West by way of bloggers, YouTubers, and the random assortment of products lead you through the beauty shop checkouts, forcing us to spend more money than we walked in anticipating. The jade-rolling train shows no sign of slowing either.
Not to be confused with the jade egg (that's a whole different ballgame), team Bleu took to testing these green facial rolling pins in the flesh, because that's just what we do around here. As a forewarning, this is a no-holds-barred review. We seek the truth sans BS, and just want to know: does this thing actually work? Read three editors' hot take on the cool trend, and if you're a jade rolling queen yourself, we'd love to hear your experience down in the comments below.
Twenty-something, Senior Managing Editor, Tiana Lewis
"While I fancy myself an aficionado of all things beauty, I've never been one for fancy tools. Nine times out of ten I don't know how to use them properly, and the fuss of learning combined with the added time spent incorporating them into my routine is, for me, more bother than benefit. I damn near worship my Clarisonic, but for everything else, I'd rather just pop over to an esthetician. When I was first introduced to the jade roller trend (likely through my Instagram feed) I was intrigued, but wasn't wholly convinced that it would be the tool to change my mind. Don't get me wrong, I love jade and find the rollers beautiful on a vanity. But, I really didn't understand why it was necessary. To be completely frank, I still don't.
One of the major perks of being in this line of work is the many products that find their way onto our desks to test and review. Being the product junkie I am, this is a big reason why I love my job so much. I was thrilled when BeeDewy sent a box of jade rollers our way, and thought it my opportunity to really investigate what it was that made this tool all the rave. And, I gave it a good run. For a couple of weeks, I stuck it in the freezer a few minutes before use for all of the incredible de-puffing properties I had heard about. I incorporated it into a 10-step K-Beauty routine for added circulation and collagen-boosting. I even let my fiancé use it to get a male's perspective! But if I'm being really honest with myself, and with you, I have yet to pick it back up. Call it user malfunction. Call it whatever you want. But, I just didn't see the benefits that so many others saw when using it. And, I don't know if that's because I didn't use it long enough or if my skin concerns simply don't call for it. Don't get me wrong! It's fun, and there's no denying that it's beautiful. I think it would be really beneficial for some. But, unfortunately, in the end, it didn't make me enough of a believer. Although it may be worth it to note: In a recent trial-run for my wedding makeup, the artist did use a jade roller on my skin in order to decrease inflammation and puffiness after my wild bachelorette weekend in NOLA. She said she swears by it."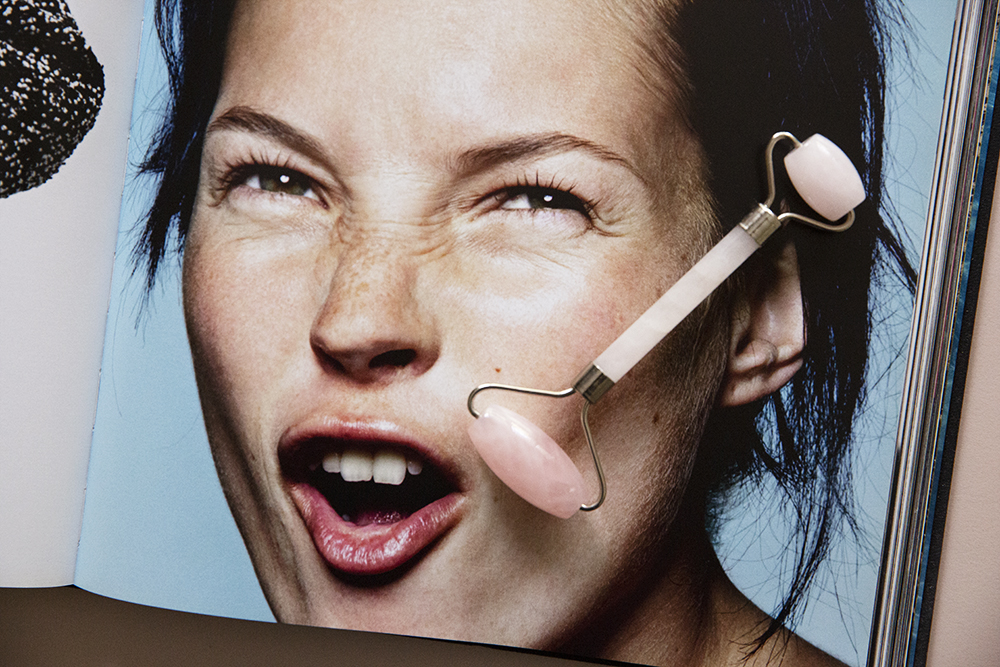 Thirty-something, Editor-In-Chief, James Kicinski-McCoy
"So, I had high hopes for this little beauty thingamabob. I couldn't wait to become a dedicated roller girl and put off the plans for Botox another couple of years. Armed with my fancy polished gadget, an arsenal of pricy serums, and a newfound knowledge of the practice thanks to countless reviews and YouTube tutorials, I was ready to steamroll the shit out of my face, and steamroll I did! Sadly, the rolling didn't last long. I called it quits just shy of two weeks. Not only did I fail to notice anything that made me think I should stick with it, but it also squeaks half the time, which is very annoying. I really, really wanted to like you little jade roller — so much so that I tried three different variations of you. But the truth is, I just don't. I saw no anti-aging, no de-puffing or reduction of under-eye circles, and there was zero pore minimizing. I think it's definitely one of those overhyped gimmicks thats claims far outweight its results. On a positive note, it is a bit relaxing and it did make putting my serum on each night, while watching The Great British Baking Show, a little more fun.
The jury's still out on if it actually helps product penetrate deeper into the skin as promised. Perhaps it does? But, again, I couldn't see clear signs that it did. I think maybe I was expecting miracles, or maybe I didn't give it my all in the consistency department — probably a bit of both. Here's my review in a nutshell: there was no come-to-Jesus moment — RIP to my trio of jade rollers. I do, however, like its archnemesis the Gua Sha tool. It allows for more control and seems to get the blood flowing stronger, leaving me with that flushed afterglow one usually sees after a HIIT workout or a good wrestle between the sheets."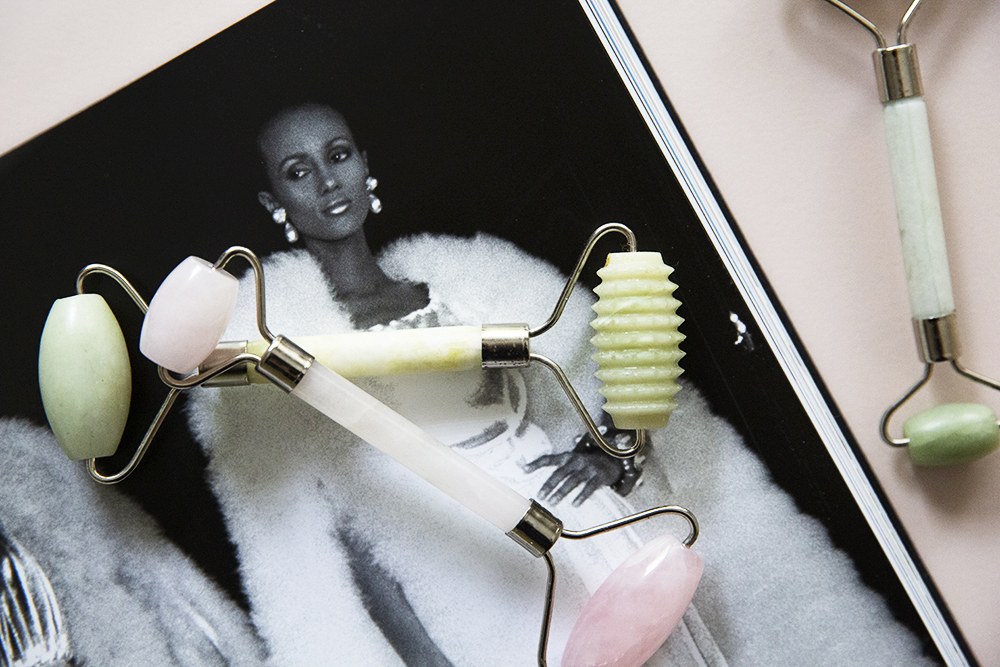 Forty-something, Contributing Editor, Sarah James
"Scroll social media for 13 milliseconds and you'll probably come across someone rolling a pretty polished rock across their face. Jade rollers are everywhere, and being quite the beauty enthusiast, I've had many sent my way. The claims of this device originating in the 1600s are many — from simple relaxation all the way to reducing dark undereye circles and taking years off your skin.
Here's the way I see it: Jade rollers are super pretty lying in that porcelain patterned dish on your bedside table and feel nice when you roll them across your face, but a tool for anti-aging? Not sure I'm buying it. Here's what I do know: Jade rollers can boost circulation and can increase a bit of lymphatic drainage in your face, but I think the train stops there (17th century China is frowning upon me, I just know it).
But! I swear I'm not a total negativist. I would actually be super bummed if I misplaced mine! I really enjoy the feeling of a jade roller, as it's ridiculously relaxing and soothing. A little rolling around my eye area while watching Neflix? Yes, please. I'm just not expecting to look ten years younger any time soon."