There exists a vague parallel between searching for the ideal pair of denim and a suitable lover. You can now browse a large selection online, in addition to in-person. At times, you only really like your pick for a season or two before wanting an upgrade. And, in the end, you have to be sure to wash them at least once every few weeks. Regardless of how exhausting the hunt can be, here at Bleu, we're not shy in expressing our love for a good pair of jeans. So much so, that our Editor-In-Chief's husband once had a hashtag dedicated to how much he adored her in vintage baby blues — #501ass. As women, we should feel inspired to fall in love everyday, whether it's with someone we want to hold hands with, a tiny slice of ourselves, or with a perfect pair of bum-hugging denim. So, we asked three of the ladies behind our brand to dish on their (recently developed) relationship with trending Japanese line, Moussy. With vintage-inspired styles to cater to every shape, size, and esteemed look, our editors share a slightly different narration to a story we've heard time and time again: Girl meets jeans, girl wears jeans…
Twenty-something, Senior Managing Editor, Tiana Lewis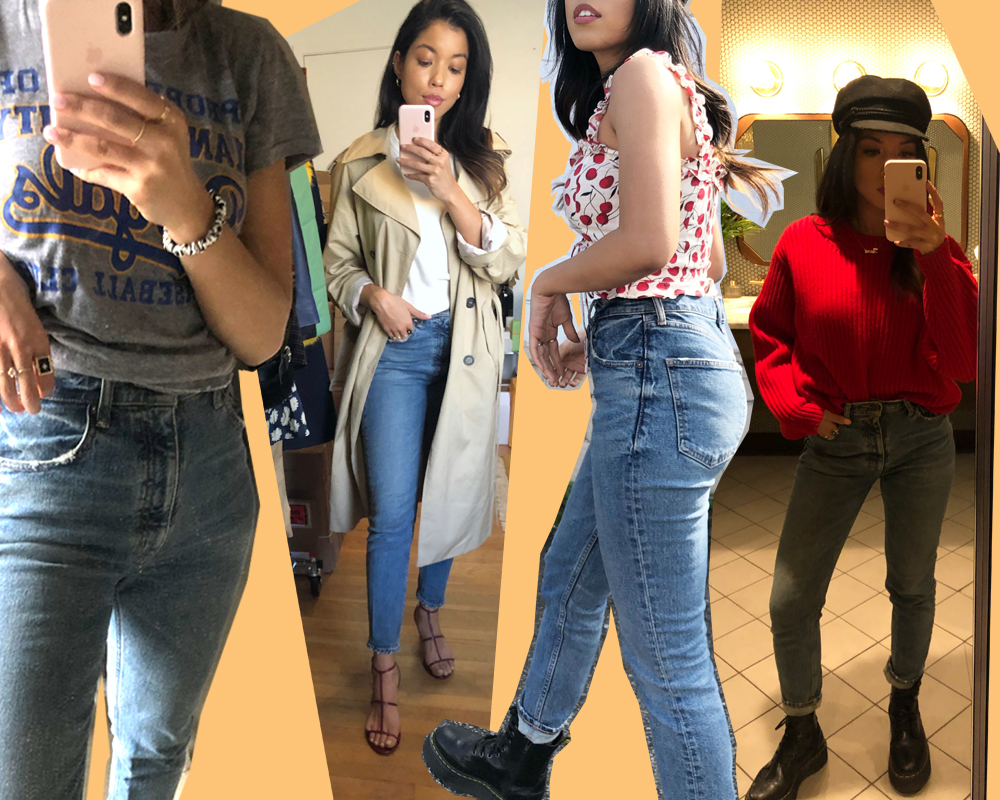 "Can I let you in on a little secret? I never fully understood everyone's obsession with jeans. I was born with thick thighs and a round (albeit perky) behind. So, when I was younger, back-to-school shopping was my melodramatic equivalent to a surprise root canal. I could never quite pinpoint whether it was everyday preteen puberty or my own insecurities with body image, but nothing ever seemed to fit quite like it should. I would reach for a pair of denim that I believed to be my size (in the dressing rooms of Old Navy or Limited Too or whatever store was popular for adolescent girls at the time) only to find that they would get stuck making their ascent halfway up my thighs. I would then begrudgingly — I was just a tweenage girl, mind you — go up in size, and while this would temporarily alleviate my tight-thigh conundrum, it would also create a large gap of fabric at the small of my back. It was denim catastrophe after denim catastrophe. Needless to say, growing up, I stuck to dresses and skirts (with the exception of that one time my mom bought me red pleather pants).
It wasn't until I started working for James that I was introduced to the secret life of vintage denim. And, yes, while I did grow into my body (praise be), the thighs and plump cheeks remained. So, I can't completely attribute my attitude change to a growth spurt. More so, I discovered purchasing denim doesn't have to be a one-size-fits-all process. The thing about vintage is that often times, there is no marked sizing. Your guide for purchasing is more about measurement than a 6-8-10 system, and no pair of Orange Tabs are exactly the same. So, that was it. I had found a solution to get me into a pair of jeans (or two or three). And, it was going to be a forever-hunt of vintage baby blues for me. Then, Moussy entered my stratosphere.
I had never even heard of Moussy until our contributing editor, Sarah, gave the brand a glowing review. And, what I love about the brand is slightly different than what I love about vintage. Moussy jeans are pricey. There's no way around it. But, what sets the brand apart is their dedication to helping you find your perfect pair. They understand that you aren't one-size-fits-all, and don't expect their jeans to fit you as such. One quick call to Moussy's customer service and I was receiving hands-on assistance as if I had just sauntered into one of their denim salons. While one style might not be the right fit for girls with bigger behinds (like me), another could accentuate you in all the right places. And, the Moussy team will be sure to help you find it. In the end, I opted for the MVS Skinny, and I absolutely adore them. There are no rips or holes, so it really is a versatile pair. If you're shaped similarly and looking for a skinny pair of jeans, I would highly recommend them, but might also recommend sizing down. My jeans had quite a bit of stretch!"
Thirty-something, Editor-In-Chief, James Kicinski-McCoy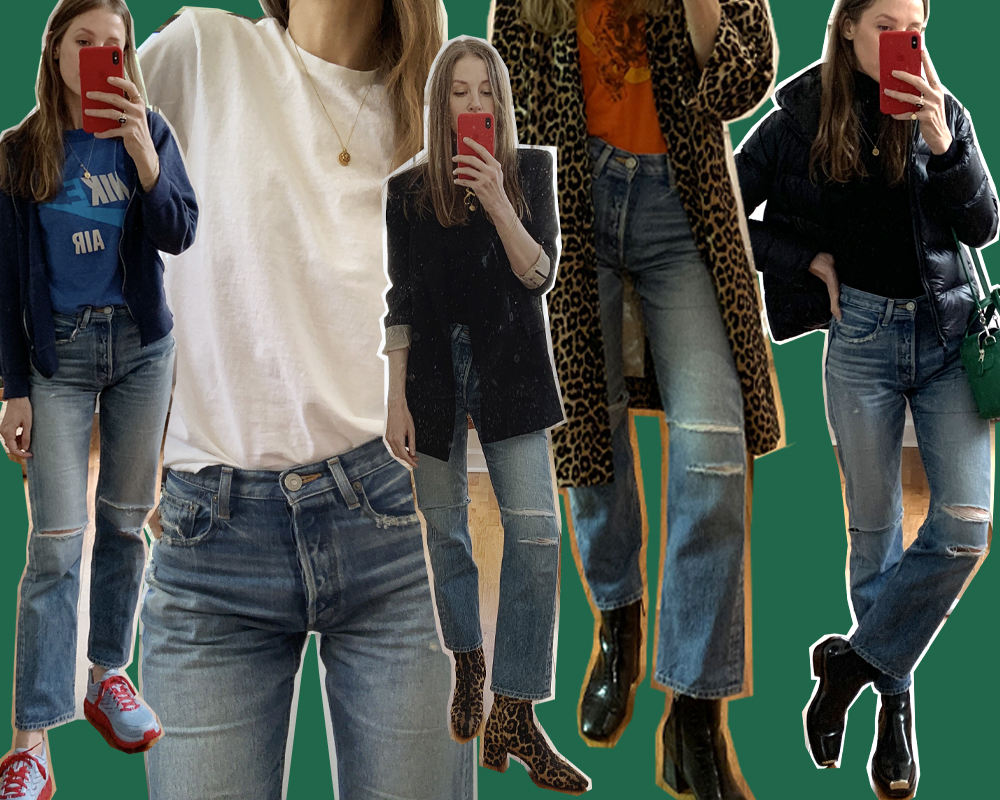 "I will always and forever be a jeans and t-shirt gal. I have been since I was a kid, minus the short-lived time I made a conscious effort to try and ditch the jeans to be more girly because the cool girls at school were what I call 'the anti-pants' and the pressure to fit in when you're a teen is relentless. It didn't last long, however. I was back in my Silvertabs in no time. I have my mom to thank for my love of denim. I was dressed like a tomboy since birth. Case and point: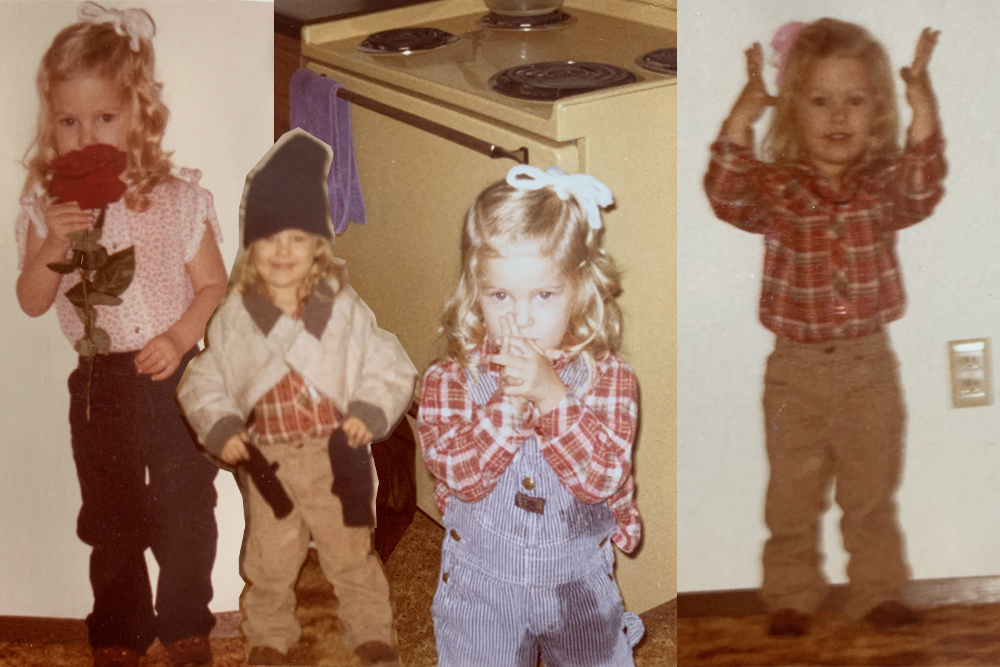 Pretty snazzy, huh? To me, jeans are just easy. They offer comfort, feel like home, and omit pure, classic, simple style. I gravitate towards vintage denim — Levi's 501s to be specific. My collection is quite large, ever-growing, and I'm quite proud of it. I struggle with modern denim because it usually doesn't fit right. I am 5'10 and have long legs, a long rise, wider hips for my frame, and a smaller waist. It's rare that I come across a pair that ticks all the boxes. Enter Moussy. The brand sent me a pair of its jeans last year. I chose the MV Olin Straight Jean, which is sadly sold out now, but the MV Steele Straight is almost identical. Of course, I picked the pair that looks the closest to my tried-and-true vintage blues — hey, I know what I like — but, I was convinced they wouldn't work for me, like most modern brands. Guys, I was dead wrong.
First impression: incredible quality. The jeans are pricy for a reason — you get what you pay for. They're extremely well-made, and the wash is something that is nearly impossible to achieve in a new pair of jeans. They also fit me perfectly. In the waist, in the butt, in the hips, and in length. I was floored. Kind of still am, even though I've worn mine dozens of times now. And, they seem to get better every time I wash them. Moussy knows how to do denim. I 100% recommend investing in a pair of your own and am already pining for my second."
Forty-something, Contributing Editor, Sarah James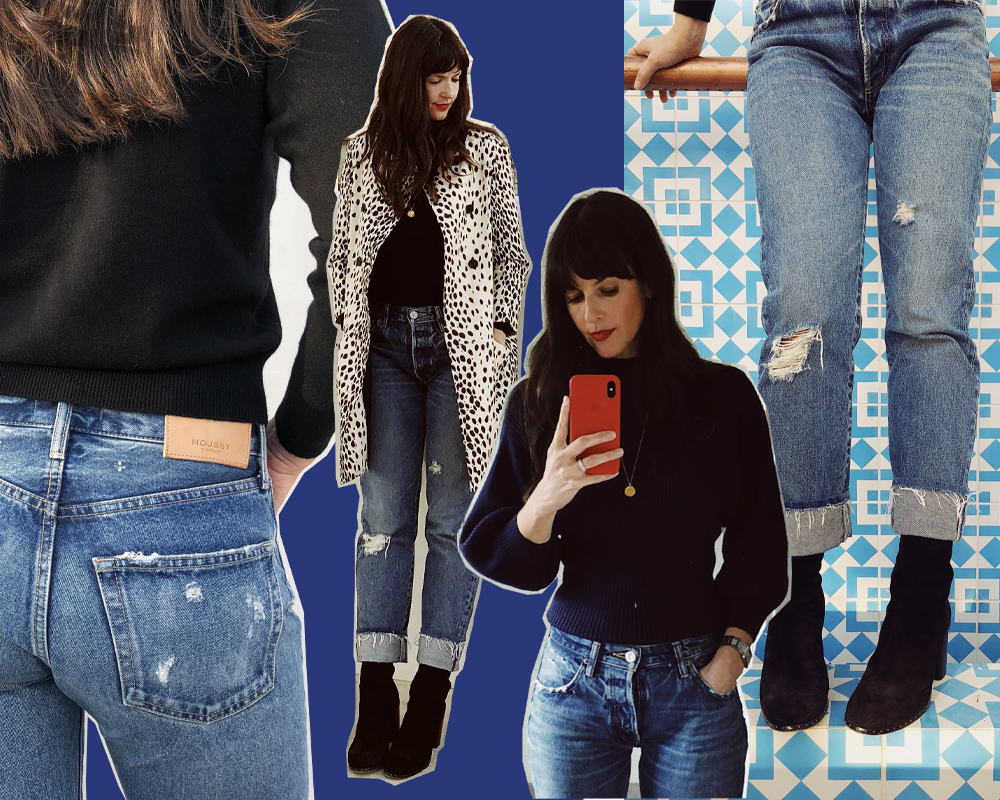 "Recently, I ran into a girlfriend at a concert while wearing my newest obsession: a pair of Moussy jeans. Now, if this premium Japanese denim brand isn't on your radar yet, it might be worth checking out. Case in point: checking my texts after the show had ended, said girlfriend sent one saying, 'your ass looked amazing in those jeans.'
And, that concludes this post! I mean, ladies, is there anything else that needs to be said?
Okay, okay. Maybe a few more details would be valuable in determining if this brand is right for you. This denim is super reminiscent of the 90s — not only in style and fit, but the denim itself. I personally have the MV Celina Cropped Straight Jeans, and the 100% cotton denim is definitely stiff. Forget stretch, folks! These puppies feel like old-school Levi's all the way, but in the best way possible. Once you get moving around in them, they completely mold to your shape, and I am 100% here for the higher, ten-inch rise.
A word of caution to my fellow muscular-calved ladies though, the tapered and/or skinny-leg styles could pose a bit of a challenge due to the non-stretch denim. (I may or may not know this from a slightly sweaty and claustrophobic try-on sesh in Austin, Texas a while back.) The straight leg styles are the way to go in this case.
All in all, completely in love with this denim, now affectionately dubbed 'the concert jeans'."