Is there anything that makes the heart flutter more than the idea of romance in Paris? That moment when you breeze/saunter into a café, slink into a seat and lock eyes with the flaky, buttery magic that is a Parisian croissant — ahh yes, I'm reliving those tingly feelings now. Cheesy intro aside, there is nothing quite as "Parisian" to me as their café culture. The ease, the slower motion rhythm… A Paris café is a place to surrender to the breath-of-fresh-air pace of bygone days. In a single word: Leisure, people. Eating is an event for enjoyment. Enjoying food and enjoying people, whether that's through conversation or thoughtful people-watching. People actually talk. Like, for hours! Forget the tousled bob and perfect skin, give me the calm and croissants of the French. (Okay, obviously throw in the bob and the skin, I like those, too. And if you're feeling generous, wait…who am I talking to? Moving on.)
This is, by no means, an exhaustive list or even "the best in all of Paris" list, but here are five cafés in la Ville Lumière that I happened to enjoy very much (and maybe still have food dreams about), in no particular order.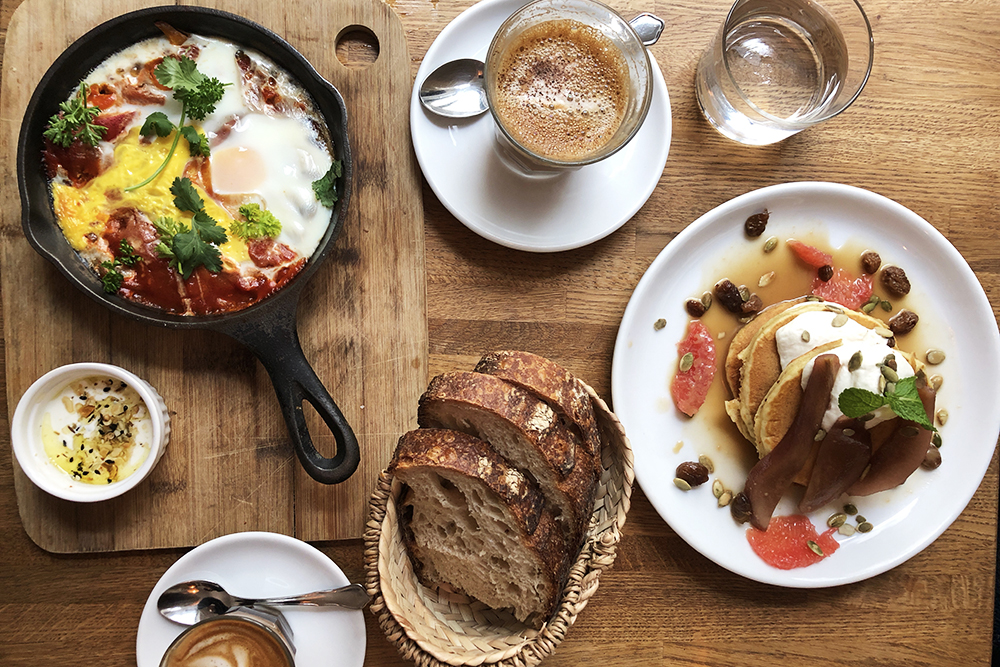 Café Mericourt: 22 Rue de la Folie Méricourt, 11th arr.
The morning we walked to this café was a brisk one — cold and wet. It was the perfect morning for Paris to work its magic; somehow the chill and drizzle seemed infinitely more romantic than it had ever before. My husband Jared and I walked arm-in-arm under the same umbrella and hurried into the café, where it was warm and toasty. And by toasty, I mean it smelled like bread. Really good bread. More romance points. We deliberated over the menu while sipping on cappuccinos. I'm a sucker for shakshuka, so that was my pick: straightforward, hearty, and delicious, while my husband went the sexy route with the Orange Blossom Pancakes topped with honey & lemon ricotta, maple cream, poached pears, grapefruit, and pepitas. He shared. I'm not salivating, you're salivating.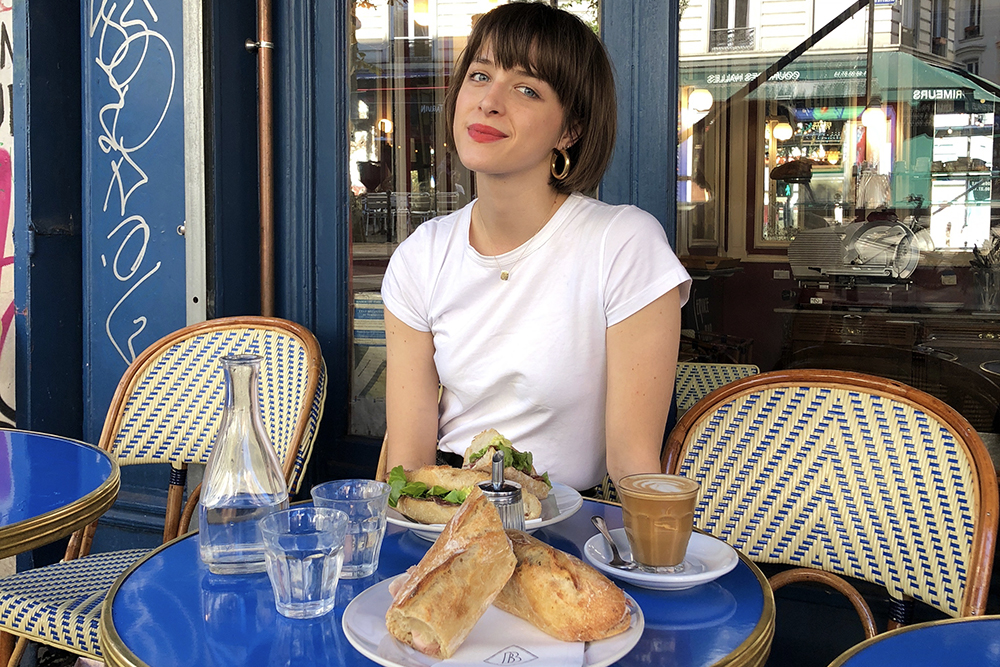 La Fontaine de Belleville: 31-33 Rue Juliette Dodu, 10th arr.
We went a bit out of our way to make this a stop and I will shamelessly tell you it was because it looked so pretty. I did it for the blue — or should I say The Bleu? (I'm smirking at my cleverness.) I'd read about this being a beloved classic French café that had received a recent update and had drooled over how perfect it looked — old-school charm with a revamped menu and truly good coffee. Our timing was not the best in two regards: the first being the reality that the building is old. They were working on the exterior, so it was covered in scaffolding and a tattered, pigeon poopie-laden awning. No worries though, I'm a millenial. I know how to ignore/crop out the unpleasantries of life. Plus, the other downside to our timing had a silver lining: we had just missed lunch, but they had two baguette sandwiches left (one ham and one veggie, score!) so we ordered coffee and had a great time people-watching with our lucky sandwiches.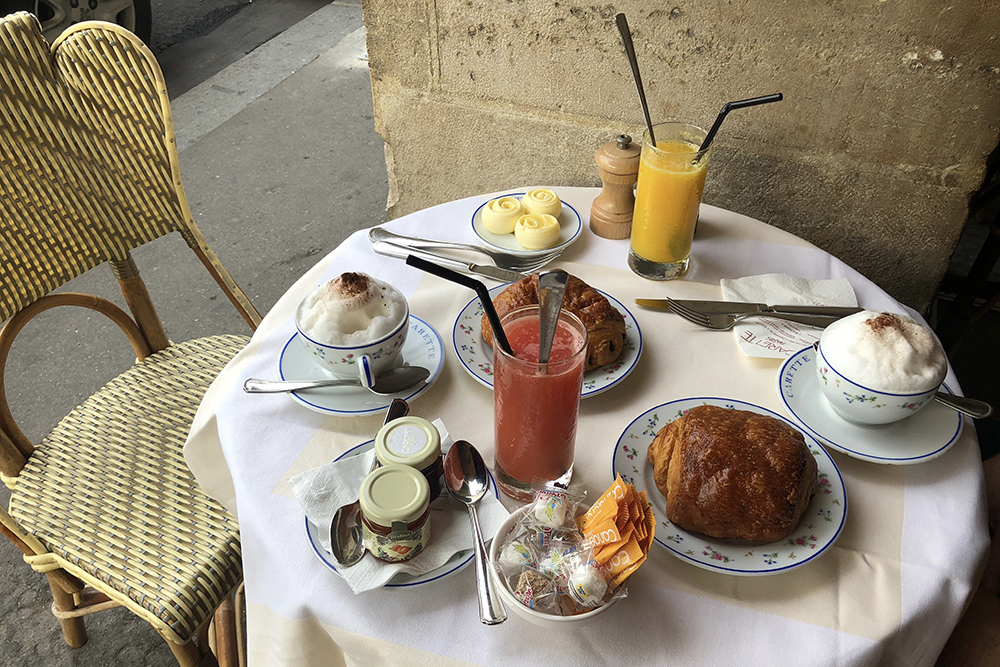 Carette: 25 Place des Vosges, 3rd arr.
Sometimes you just want to experience something that feels normal verses trendy, ya know? Anyone else feel that? Especially in larger cities, in a culture that's not my own, I don't want an activated charcoal latte, I want a "normal" café where my small-town grandma wouldn't feel out of place. That being said, I would love to take my grandma to Carette. Our kind hotel concierge recommended this café to us on our first trip to Paris. We were eager to hit the town and this was a short walk from the hotel. (Although, they do have a few locations sprinkled throughout the city.) Carette gave us our first real taste of Parisian foamy lattes and buttery, flaky croissants, and for that reason, I'll probably always be a little sentimental towards it. It's been open since 1927 and they have everything you could want: extra creamy, foam-topped cappuccinos, macarons, croissants, and fluffy, cloud-like scrambled eggs. They offer an amazing breakfast spread complete with your choice of fresh juice, coffee, pastries, bread and jam, eggs — you get the picture. Prepare to feel gluttonous. In addition to gluttony, I also experienced a deep sense of accomplishment after ordering it all en Français. Excusez moi while I pat myself on the back. (Thank you Duolingo and our kind hotel concierge!)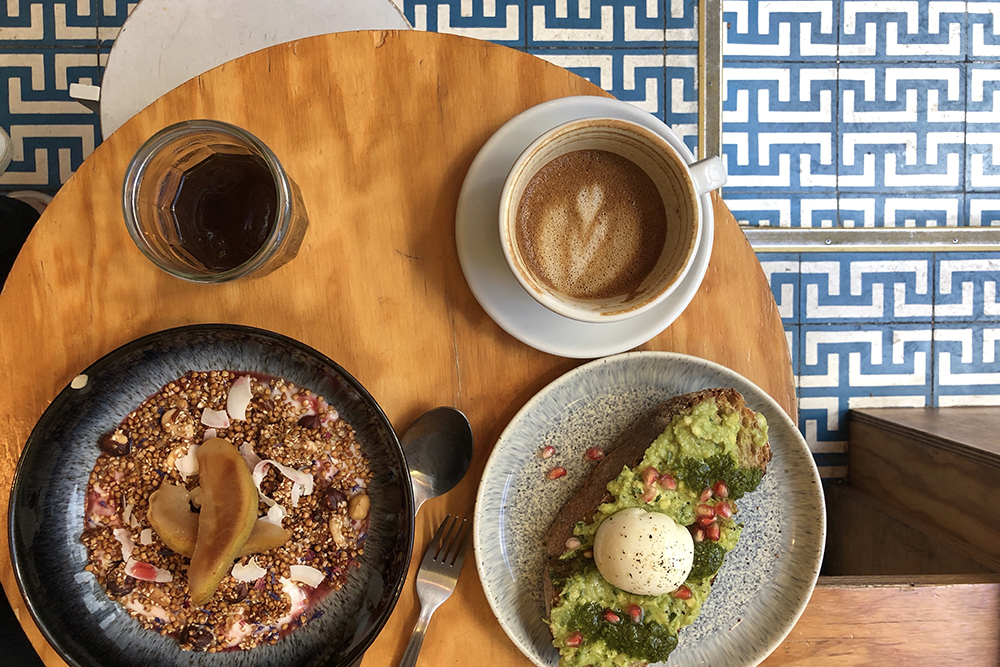 Ob-la-di: 54 Rue de Saintonge, 3rd arr.
This is another one that was mostly influenced by the popular duo of Instagram and geographical convenience. Neon light, really cool tile, blonde wood, and avocado toast — oh look, here I go. There's not much seating, but we got lucky and snagged the snuggly little booth by the window. The barista was great, quippy, and offered superb recommendations (I am a chronic "What's your favorite?" asker at restaurants). He recommended the granola and by golly, was he right. We went with some kind of buckwheat, cinnamon hazelnut, pear wonderment and marveled at every sweet, yet savory, tangy, crunchy bite. The Avocado Toast was also good — I'm always a fan of a chimichurri situation, but it was not the most exciting thing on the table, let's be real. Take it from me and Mr. French Barista, the granola is where it's at. After taking a bunch of pointless pictures of my shoes on the floor, we hit some shops and sights and since this café sits in Le Marais district, we had plenty of options.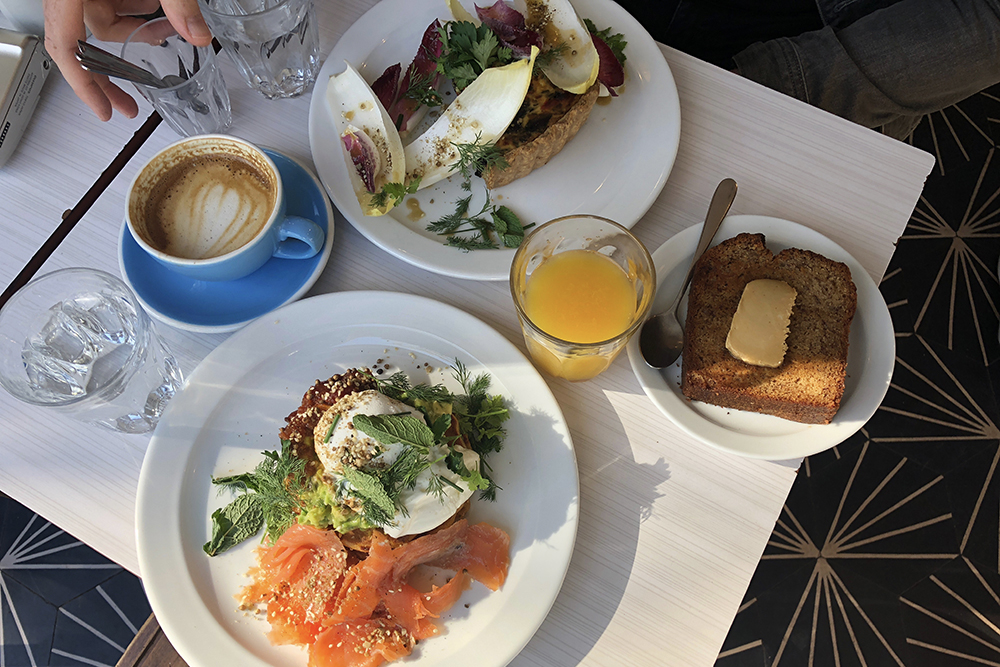 Neighbors: 89 Boulevard Beaumarchais, 3rd arr.
I gotta say it, I saved the best for last. Well, "best" is relative, but Neighbors was probably our favorite and definitely our most frequented. This was the spot that held that warm feeling of familiarity by the end of the week, like it was "our" little spot. While it's fun to drink espresso and espresso-based drinks, there comes a moment when I just want my dang watered down pour over, okay?! This is one of the gems that can make that single-origin dream come true. Enough about the coffee, let me wax eloquent about the food and the ambience. It sits on the perfect street for people watching and the days we ate breakfast here, the sun was shining and the café was soaked with it, making breakfast feel like the emotional equivalent of a cat leisurely stretching as it wakes up. Possibly one of my favorite features of this cafe: help-yourself paper and colored pencils to draw with while you wait. And, it gets better. The diner's masterpieces cover the walls in le petite toilettes. Anyway, onto the food. Everything we tried was amazing, but lemme hit the highlights. Grilled Banana Bread with Espresso Butter. Every bit as heavenly as it sounds. I'd go on, but I'm about to drool on my laptop. Jared ordered the Quiche du Jour, which was amazing, but I need to shine the spotlight onto my plate, because for once, I'm the one who ordered the knockout dish. Corn Fritters, topped with smashed avocado, poached egg, and house-made chutney. Now if you're from the South, you're probably acquainted with corn fritters, possibly referred to as corn nuggets. Banish those deep-fried memories from your minds, and let me replace it with this delicious, savory and delicate, crispy on the outside, warm and hearty on the inside, the perfect base for that tasty avocado smash, egg and chutney "fritter". T'was honestly, one of my favorite meals of the trip.
So, yeah. We spent eight days in Paris and ate a lot of really amazing food, drank a lot of great coffee, and sat in a lot of cute café chairs. (I have this idea for a coffee table book featuring photos of cute café chairs in Paris, does anyone know if this is already a thing and if so, please supply an Amazon link in the comments below.)
To reemphasize my sentiments regarding French leisure is to sum up my takeaway — we came home with a renewed determination to pretend every meal is at a French café. Okay, maybe that's not realistic, but the sentiment shall be a compass. I'd like to be a little more present, a little more generous with my attention and patience. When I sit down to eat, whether it's with myself at Chipotle or sitting across from a friend over avocado toast, I'll do a bit more savoring and a little less hurrying.
This is where I'd say something aspirational in French, but "Bonjour, un café et pain au chocolat, s'il vous plaît" will have to do.