What's warm, melty, and delicious all over? A lot of things, but we'll spare you to keep things from getting weird. Today, we're talking specifically about Nashville's own The Grilled Cheeserie (which currently has two locations: one on Main Street in Franklin and the new Hillsboro Village spot, and yet another is set to open in the Hunter Station Food Hall next month). There is something so simple, nostalgic, and delicious that a grilled cheese has over its typical sandwich counterpart, and we think The Grilled Cheeserie does it best. Our personal fave and who James, our Founder, says is "quite possibly the best grilled cheese she's ever tasted" — she swears there's something magic in there — is the Turkey di Parma grilled cheese sandwich in all of its golden, only sinful if you let it, Parmesan-crusted goodness. Pro tip: You can add a parmesan crust to any of The Grilled Cheeserie's melts, which is a must in our book, and you can't leave without ordering a side of tots — we mean it, thank us later!
We thought we'd share the love, so that even if you can't experience The Grilled Cheeserie IRL (we're crying for you), you can recreate the highly requested Turkey di Parma at home whenever you're in need of some good, old fashion comfort food. Below, the brilliant Chef and Owner behind this sandwich of our dreams, Crystal De Luna-Bogan, who believes that grilled cheese really does hold the key to balancing comfort food and seasonal ingredients, shares her recipe. Packed with flavor and arguably one of the most interesting melts on the menu, this is one how-to you'll want to keep in your back pocket for a rainy day. Enjoy!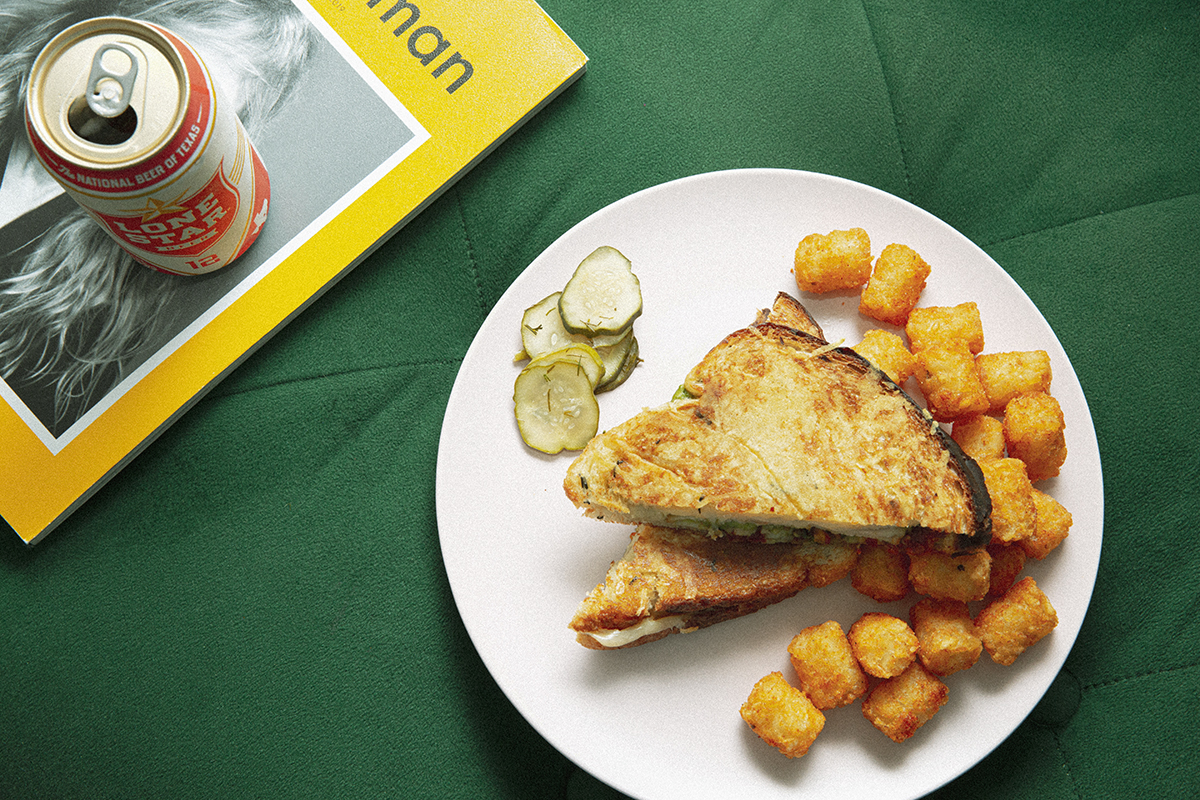 Turkey di Parma Melt
Yields four servings
8 oz. Sweetwater Valley buttermilk cheddar (can use sharp white cheddar)
4 Tbsp. Pesto Aioli
½ cup Balsamic-marinated sun-cured tomatoes (we make these from scratch , marinated sun-dried
tomatoes packed in olive oil will also work just fine)
1 lb. Roasted turkey (not smoked)
8 slices Rosemary garlic sourdough
4 oz. Parmesano reggiano cheese, shredded
4 oz. Butter
To assemble this melt, butter the rosemary-garlic bread generously. In this order, place one piece of cheddar on the rosemary-garlic bread, pesto aioli, turkey, sun dried tomatoes, two pieces of cheddar cheese, then place the bread on top. Heat a heavy bottom griddle to 325° – 350°. To create the parmesan crust, evenly sprinkle parmesan on griddle in the shape of the bread. Immediately place sandwich on to the cheese. Use a griddle press or heavy weight like another cast iron pan that is a size smaller as a weight. This helps with even browning. Cook 2.5 minutes per side or until cheese is melty. When flipping over parmesan crusted side with a spatula the melt should release easily from pan. If not, give it another minute, then flip over. Slice on a bias and enjoy!
To make Pesto Aioli:
Yields two cups
1 lb. Parlsey
½ lb. Basil
4 oz. Walnuts, toasted
4 cloves Garlic, smashed
1 Egg
8 fl oz. Olive oil
1 Lemon, juice and zest
½ tsp. Black pepper
1 tsp. Salt
½ cup Parmesano reggiano, shredded
In a robot coupe or blender place garlic, parsley, basil, pepper, toasted walnuts, lemon zest, lemon juice, and eggs. Slowly drizzle in oil to make an aioli. Finish aioli with shredded parmesan cheese and taste for seasoning (salt and pepper).