My first encounter with Martine Ho was by way of her sister, Andrea, when she reached out ever so kindly inquiring if she could send our team a new line with a cheeky, little name: Sunnies Face. We of course obliged, being the curious beauty lovers we are, followed by a quick Google search to figure out what "face" would be making its way across our desks, and what exactly it was that made it "sunny". Alas, we uncovered that Sunnies Face is actually a modern cosmetics line (unfortunately only available in Asia — for now!) and Ho's latest venture under the "Sunnies" corporation umbrella, with Sunnies Specs, Sunnies Studios, and Sunnies Cafe already up and buzzing. One look at the minimal, mocha branding and our team was sold. A little over a week later, we were all swearing by the Fluffmatte in "Hot Sauce" and vowing to sport more lipstick as a necessary lifestyle change.
The more I fell down the Sunnies rabbit hole, the more I realized that so much of the appeal behind the brands has so much to do with Martine herself. While scrolling through the dreamlike sequence that is her IG feed, of which I can only properly and aesthetically equate to a sugar-coated Haribo Peach, the more I was convinced that she is remarkable creative force, and not just by way of her appearance on social media. With over 150+ retail locations, 700 employees, and a bicontinental lifestyle that whisks her from country to country, this busy entrepreneur is everywhere, and I'd imagine a little out of breath. Not only has she successfully created mega-brands in the beauty, eyewear, and restaurant industries, she's also incredibly smart, with passions like uncovering the "why" behind human existence and reading Stephen Hawking for funsies. I'd also like to add that she's incredibly kind. Despite my emailing her, sometimes three times a day, to an inbox that I'm sure has unread numbers in the thousands, her messages always held a certain air of enthusiasm and authenticity.
Today, the Philippines native and Co-Founder and Creative Director of the Sunnies brands we've grown to know and adore invites us into her technicolor dream world (as expressed in the artistic imagery of this interview, which she also creative directed) to clue us in to how she manages to balance multiple companies, a brand-new marriage, and answering the plethora of questions we had for her. Scroll on, read on, and get ready to feel inspired.
Shop Martine's Look
Tell us a bit about your background.  "I was born in the Philippines and spent my childhood growing up between Manila, Hong Kong, and New Delhi (expat kid life). Then, we finally made our way over to Orange County. I studied journalism and photography and thought I would be a photographer slash makeup artist. I landed my first job at American Apparel in the creative/marketing department when I was 21. American Apparel was booming a decade ago, and what I learned there was invaluable to my job now as creative director of a few companies I also co-founded. I ended up moving back to Manila five years ago to start an eyewear company called Sunnies Studios, and we've expanded into prescription eyewear with Sunnies Specs Optical, opened a few restaurants called Sunnies Cafe, and we just recently entered the beauty world with Sunnies Face. We now have over 150 stores nationwide and have a team of over 700 people."
Favorite way to spend a day off?  "Watching movies and pretending to be a film critic afterwards."
What does self-care look like for you when you're off duty?  "I'm a Jjimjilbang (Korean spa) addict. I get a body scrub where all the dead skin piles up like a little mini mountain and sweat it out in the salt saunas."
Tell us about your homes.  "I always reference how artist Frida Kahlo and Diego Rivera had two separate homes and a bridge that connected them and symbolized their love as my ideal living situation with a husband. It was very important for me to create a personal space before I got married. Our bicontinental marriage definitely has it's challenges, but we are very aligned with our ideas of togetherness and need for individuality."
What's your decor design approach?  "It's a simple 71-sqm one bedroom, so I was extra mindful of maximizing space. I chose to paint it all white because it gives an illusion of a wider living space, plus the light bounce is really lovely. A huge circular illuminated mirror that has a portal vibe also makes it appear larger. I had done a few trips to Italy last year when meeting with our factories developing formulas for Sunnies Face. I fell in love with the design scene in Milan. I wanted my space to feel playful, airy, and bright. It's a mix of vintage lamps and priceless artwork done by family members, a few pieces I lugged over from local furniture designers in Melbourne, and pieces I've found throughout my travels and miraculously were able to bring home with me. Plus, an abundance of plants because I'm a believer of biophilia — that humans innately seek out being around other living things."
What are a few favorite things you love in your home?  "I suppose the first thing people notice and ask me about is the phallic-shaped Shiva Vase by Ettore Sottsass. It's a great conversation starter. I first saw it in Milan a few years ago and knew I needed it. It represented his love for a Catalan woman. My cousin Belle also gave me these vintage acrylic coasters as a house warming gift, and they're particularly special to me because when I first had guests over — and actually used coasters — I had this funny personal moment where I felt like a real adult. My dining chairs are from an Australian designer named Daniel Emma, and they make me particularly happy, too, because I struggled for months finding the perfect chairs for my rounded glass dining table. They're the ideal height, color, and everything was customized for me. I can keep going — there isn't a singe piece in my home that I don't love or has a personal story attached to it. The rug is called Talking Rocks from Cold Picnic that I burdened my sister to hand carry over, as well — none of these pieces were an easy task to bring over! I found my 'Clarissa Explains It All' telephone at the Rose Bowl Flea Market in L.A. for $20 and they couldn't guarantee it would work. I bought it anyway and to my utmost delight, it rang and worked perfectly."
Tell us a bit about your art collection.  "I have quite a few painters in my family; my grandma was a painter. Most of the art in my home is from my aunt, Isabel Diaz. The one in the dining room was one I grew up with in my Orange County home, and I suppose the colors there were more influential to me than I ever realized. In fact, a lot of the house is inspired purely by that piece. The other painting in my house is from the same aunt and has a really interesting story attached to it. It was one of her very early pieces, and my mom stumbled upon it in a flea market in Long Beach and paid $50. It's worth about $10k and people have offered her a lot for it. Luckily, she let me steal it."
Where do you shop for home decor?   "I love finding pieces abroad and coming up with crazy plans to get them back to Manila. While in Barcelona, I found an amazing vintage store called El Recibidor and managed to bring home three lamps and a shelving unit. I still love going to the Rose Bowl Flea Market and finding gems on craigslist in L.A. In Melbourne, I go to a few of the vintage furniture stores along Smith Street in Collingwood. Also, Instagram is a great place to find beautiful vintage pieces. @homeunion, @bi_rite, @curated_spaces, and @casa_shop are just a few of my favorites to follow and purchase from."
What are your favorite, must-read books?  "I've always been drawn to science books. I love understanding — from a biological and evolutionary perspective — why things are the way they are. I suppose it answers the very Gemini question of 'why?' My favorite ones to start with are Sapiens by Yuval Noah Harari and Stephen Hawking's Short Answers to Big Questions. I dreaded assigned reading in elementary school until I read Amy Tan's Joy Luck Club, and the movie is so good to re-watch during all the stages of your life. I recommend Design as Art by Bruno Munari to everyone working in the creative field. And lastly, I've always enjoyed all the Betty & Veronica comics."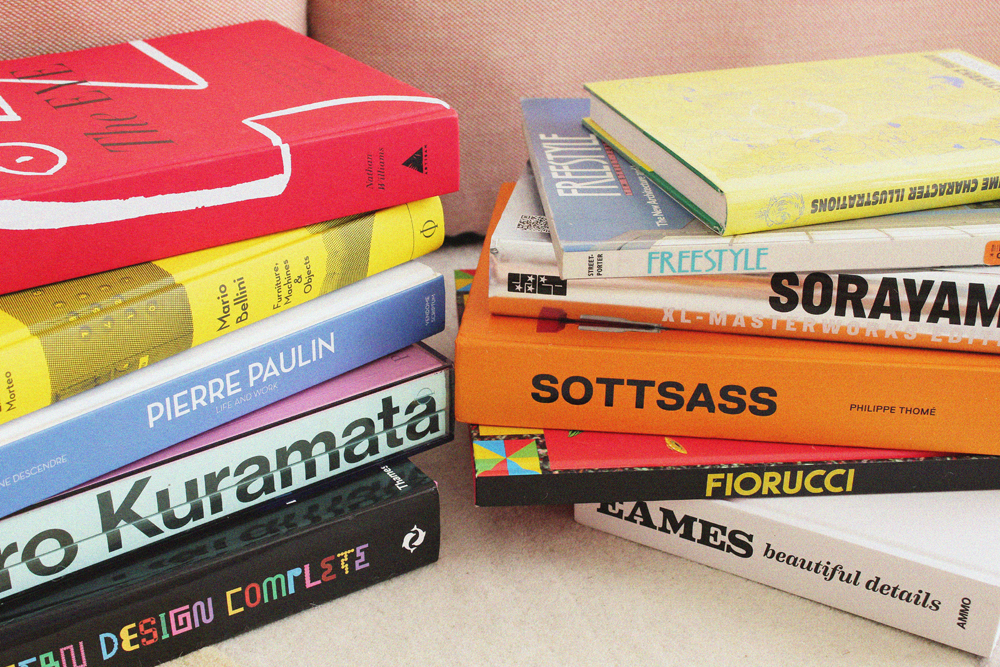 Coffee table books or magazines you love?  "For magazines, it's National Geographic and Lui. Coffee table books, I'm really appreciating my Hajime Sorayama books because I love how much it scandalizes my guests as much as I love the illustrations."
Favorite candle?  "Apolis Global Citizen smells heavenly."
You recently got married — congrats! What's your secret to balancing home and work life?  "There is no secret other than working with great people. It's also making time and prioritizing things that are meaningful to you."
You split your time between Manila and Melbourne, what drew you to these specific locations?  "I was born in Manila and have always been incredibly close to my family here. It's very much home to me. My husband (we just got married a few months ago, so it's still very surreal to say!) lives in Melbourne. He was formerly a TV host in Asia and now runs an amazing shared workspace in Australia called The Commons. Wife perks include having my own amazing office there. My dad also grew up in Melbourne, which is totally unintentionally Freudian. Melbourne is such a cool, underrated city with a very exciting food and design scene."
Any tips for bi-continental travel?  "Hydration, snacks, and mental preparation for being on a flight. Plus, I have my go-to travel pack of sorts that I bring with me always."
What are your in-flight essentials?  "Bose noise-cancelling phones, an Olivia von Halle silk eye mask, and a cashmere 'security' blanket I bought from India a few years ago that never leaves my side. I always pack a full meal and snacks on flights because I'm anxious about getting hungry or not liking the food. I love to mask on flights as well! Summer Fridays Jetlag Mask has changed my life."
What's the one thing in your closet you would save in a fire?  "A Rolex watch my dad gave me when I graduated from college."
How would you describe your personal style in three words?  "Girl at heart — that's Miu Miu's bio on Instagram and I wish I wrote it about myself because it speaks to me on every level."
What trends are you excited about/loving this season?  "Kitschy nail art and unitards coming back with full force."
How do the trends in Manila differ from those in Melbourne? Are they both different than the States?  "The Philippines can be quite conservative in regards to some trends, but there is definitely a creative movement within the country. We have our own creative ecosystem, and it's both fascinating and exciting to see it grow and be a part of. Melbourne definitely has its own flow that I would liken to the Pacific Northwest."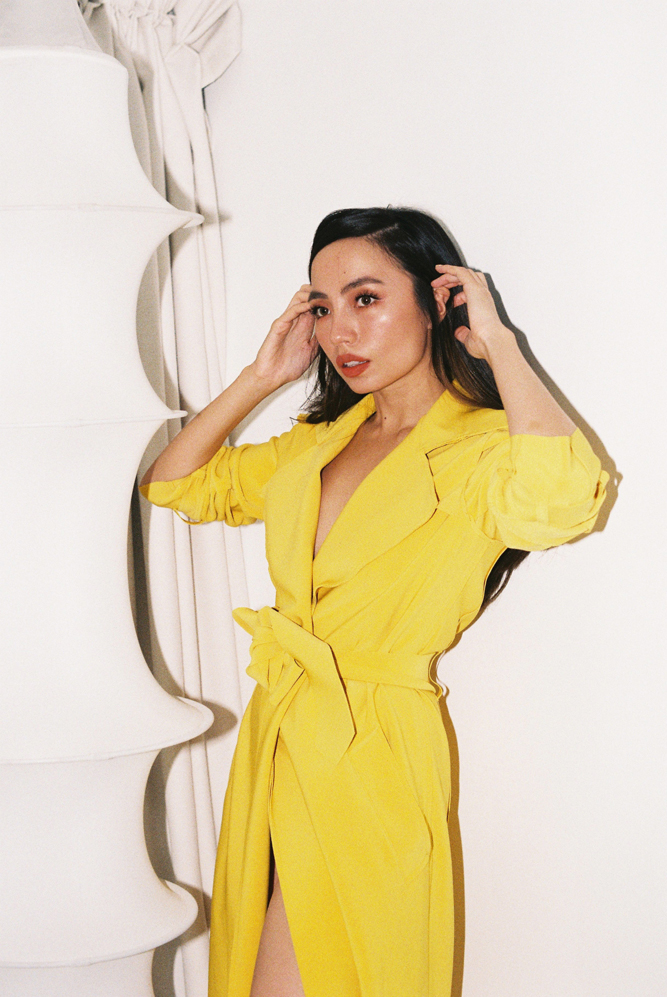 Your first luxury purchase?  "Miu Miu black satin chunky heels — first paycheck completely gone. Still love and wear them today."
Your biggest fashion failure?  "Wanting to be Britney Spears in the 'I'm A Slave 4 U' music video so badly when I was a preteen — an icy blue eyeshadow and gelled hair disaster."
What do you wear when you're spending the day comfortable, at home, and off duty?  "Silk anything or completely nude."
What was your latest shoe purchase and why did you have to have them?   "Rejina Pyo Harley leather sandals. I had to have them because they pair seamlessly with everything in my wardrobe. I've been consistently going hard on the clear sandals for a few years now."
What are three things on your want list?  "A trip to Tel Aviv, a Zizi Donohoe Dalmation silk robe and a Himalayan pink sauna room in my house with furniture made from the pink rocks like Flinstones style."
Your five wardrobe staples, go…  "Levis 501s, a simple silk dress I can wear to bed or dinner or on a plane, any block heel sandal, a small leather shoulder bag, and bodysuits from Gil Rodriguez."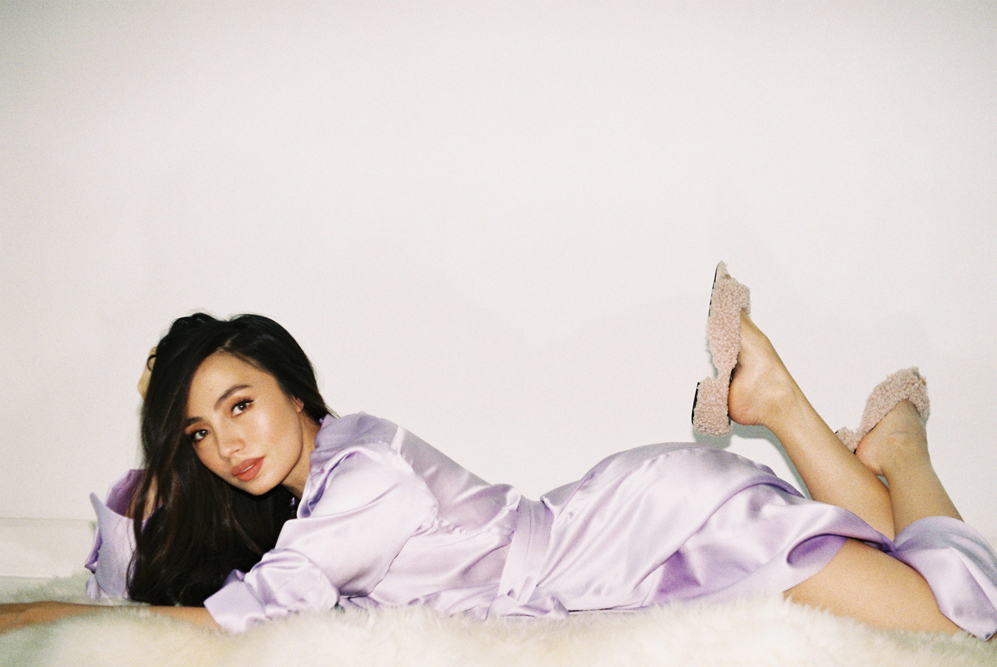 Favorite designers or brands?  "Miu Miu because the colors and prints and playfulness really do bring me joy, and it was the first luxury brand that ever spoke to me. Acne Studios because I love the entire brand experience and cherish each unique piece I've ever committed to owning. Dion Lee because the construction and material is exceptional and the cost per wear on each piece is unmatched with any other designer pieces in my wardrobe."
Very favorite online shop?  "Matches Fashion — when I feel I deserve a personal spoiling."
What's Manila's best kept shopping secret?  "They have these massive Japanese surplus stores that ship out vintage office furniture from Japan circa the '80s and '90s, and there are some incredible things there. I furnished our Sunnies office with these beautiful, vintage Herman Miller office chairs with amazing santos palisander wood for about $40 each. I'm planning on reupholstering them in beautiful, creamy nude leathers, as well."
What are the fashion pieces you spend the most on and why?  "A good trench because I'll get the most cost per wear out of it."
Dresses or jeans?  "Dresses — easier to slip on and off."
Heels or flat?  "A block heel."
Dress it up or dress it down?  "Whatever the occasion or mood calls for."
Are there any great places to shop vintage in Manila?  "Makati Cinema Square thrift shopping. All of the clothing is from Japan and hasn't been totally been pilfered through. I once found an amazing Prada slip dress there for P70 ($1.50)."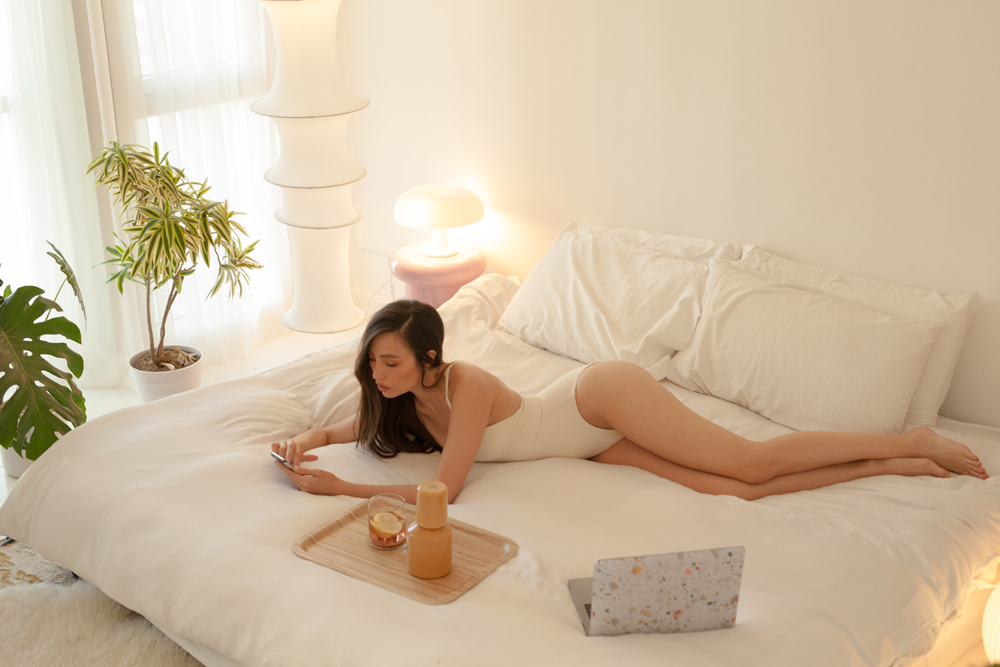 Do you sleep in on your days off?  "I try to! When I do actually sleep in, I feel like my body and skin thank me."
What's on your bedside table?  "A George Nelson lamp, water, and whatever book I'm feeling to fall asleep to."
What's your sign? Does it match your personality?  "I've been told I'm very much a Gemini — sometimes it's a compliment, sometimes it's a backhanded one. But, I like to think I have the positive characteristics of one: curious, creative, and fast-thinking. My rising sign is Virgo, which I think is suited, as well. I've always been more of a head-thinker than heart."
What are your hobbies?  "Photographing the kids and pets in my family. Googling facts about animals and space. Appreciating geology and rock formations. This is a weird one, but I am fascinated by looking at Airbnb and hotel options in war-torn areas and googling Afghanistan in the '60s."
Night in or night out? How do you spend it?  "Both. For a night in, I'd make a yummy, simple bone broth soup and watch a good movie (most likely in the sci-fi genre). For a night out, a good meal and dessert and a bar sesh, where I order the same non-experimental drink I've ordered for a decade: vodka soda with lime."
Favorite Netflix series/shows/movie?  "On Netflix, Love, Death and Robots. Sometimes I think I'm a child in an adult woman's body, as I still love cartoons and animated anything. I also like Black Mirror. It disturbs, entertains, and opens my mind in the way that the Outer Limits did for me as a child. I just watched the movie Climax a few weeks ago and everything from the music, cinematography, and art direction were unlike anything I've seen. It's not a film for everyone, but it will definitely take you on a ride. I love vampire and zombie films, as well. My faves in those genres are Interview with the Vampire, Let the Right One In, and 28 Days Later. I grew up on teen movies which I will love forever: Clueless, She's All That, 10 Things I Hate About You, and Cruel Intentions."
Favorite albums?  "Kid A by Radiohead, Alive by Daft Punk, Kendrick Lamar's DAMN, the Cruel Intentions soundtrack, and the Romeo and Juliet soundtrack."
Signature scent?  "Maison Kurkdjian's Aqua Universalis."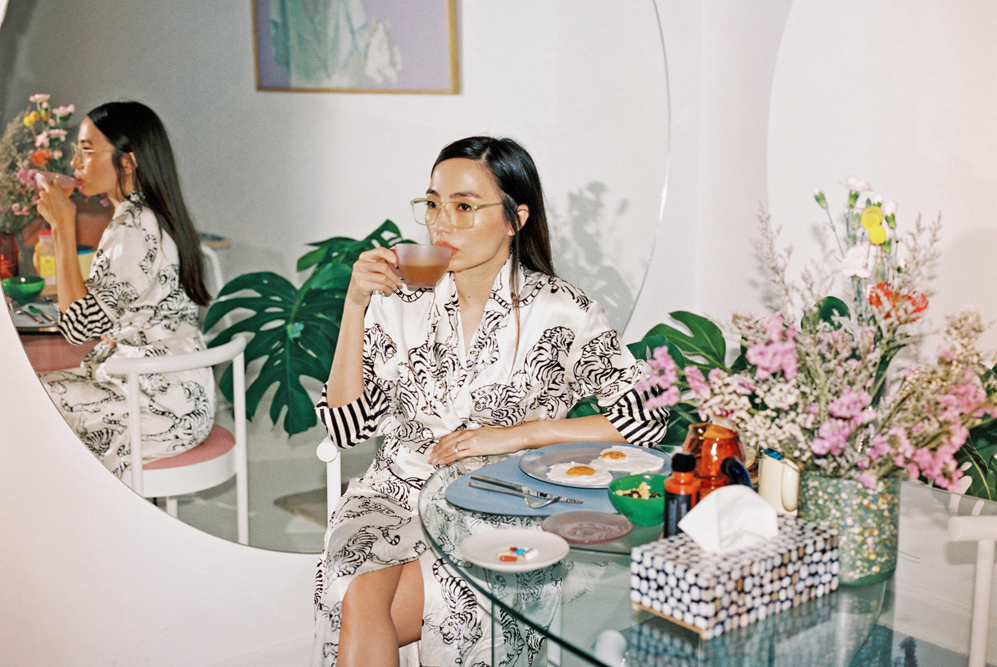 Breakfast/brunch of choice?  "Medium-rare steak, eggs, and rice with any sort of MSG-type of liquid seasoning (Maggi is my preference). My taste buds are hard-wired carnivorous with a preference for Asian flavors. A normal breakfast for me is two fried eggs, a small serving of full-fat Greek yogurt with some fruit and nuts."
Go-to snack you grab for throughout the day?  "Raw almonds, snap pea crisps, or a medium boiled egg. Chips are my downfall."
Coffee or tea? How do you take it?  "Jasmine green tea, occasionally. I'm in my 30s and have never consumed a full cup of coffee in my life. I once had an espresso in Portland pretending to be cool in front of a guy, and I felt like I was going to run a marathon or punch a hole in the wall from the energy. I'm excitable enough as is, but I still always feel like I'm the only person not in the coffee club."
Any morning habits you love to get your day started on the right foot?  "Drinking water because I'm parched."
Fave cookbooks?  "The Gjelina cookbook, Ottolenghi Simple, and the Milk Bar book by Cristina Tossi."
What's your go-to dinner recipe when at home?  "I love making a Filipino soup called Bulalo, which is a bone marrow broth soup with a lot of vegetables. It's so nutritious and a very simple comfort food. You boil a large pot of water, add the marrow bones and beef shank and return to a boil. Return the cleaned meat and bones to the pot, then add the onion, garlic, peppercorns, and fish sauce. Reduce the heat to medium low. Then, add the corn and chayote and simmer for another 20 minutes or until the chayote is tender."
Favorite local restaurant and what is your go-to order?  "I love Your Local in Manila; the salmon donburi is heavenly! Sunnies Cafe has a mind-blowing cereal milkshake."
Regular take-out order?  "The To-Go Trust Me from Sugarfish in L.A.!"
Your most-loved kitchen gadgets?  "The Smeg fridge in cream. It was a big-girl purchase and I regret nothing about it."
Do you work out?  "When I am motivated, I do enjoy yoga, pilates, and isometric type or workouts. I love watching Eight-minute Abs on Youtube and doing those in the privacy of my own home."
Any supplements you take/magic elixirs you make or swear by?  "I firmly believe in taking oregano oil during the onset of a sore throat. Oregano has such potent anti-microbial properties and also has a numbing sensation that relieves my throat. I warn people it might make you gag and taste like pizza all day, but nothing works better for me."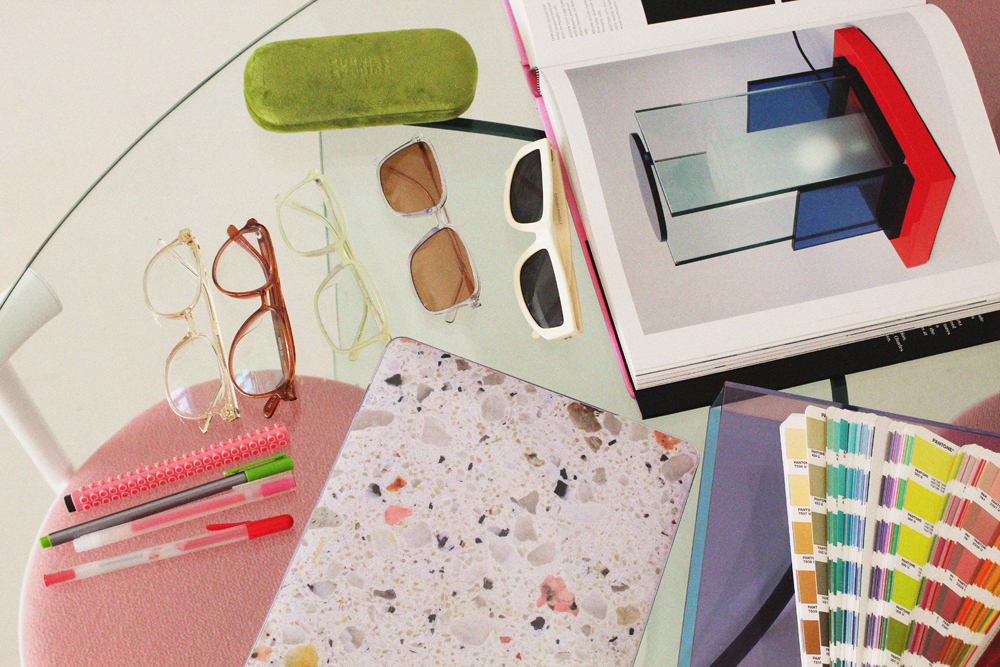 You have multiple successful Sunnies brands, and are well on your way to creating an empire. How did it all begin?  "I had been working at American Apparel for about five years already and my cousin, Georgina, would always come and visit me. One holiday, she told me she was starting an eyewear company and asked if I would be open to doing the creative direction for the brand. This was back in 2013. I said yes, came on board as a partner in the business, moved to the Philippines, and here we are today with over 150+ stores and 700 employees. I wouldn't have done anything differently, but sometimes I reflect back on what a big risk that was to move cross-continentally to start a business."
When you were a little girl, what did you dream of doing as your career?  "A veterinarian until I realized how much I hate needles and actually going to the doctor. A photographer because my godmother was one and I admired that she made a living out of creating. And, I also fantasized about being a makeup artist and owning a makeup brand one day — then it actually happened!"
What was the beauty market missing that Sunnies Face now offers?  "I've been a beauty junkie since I dove into my mom's makeup case as a child. I remember being so fascinated with painting my face and would play dress up always. Flash forward into adulthood, I didn't find one makeup brand that completely spoke to me on every level. I found that luxury brands were too expensive or not available in the Philippines. The cool brands didn't necessarily have the formulas I was looking for. And, the affordable brands didn't have the packaging. We wanted to create our dream brand that had everything we were looking for: a thoughtful brand with luxury formulas and packaging at accessible and inclusive price points."
When will Sunnies Face be available to purchase in the U.S.?  "This is truly the millionaire dollar question that I wish I could give a direct answer to. When we finally get it together, we will be really noisy about it."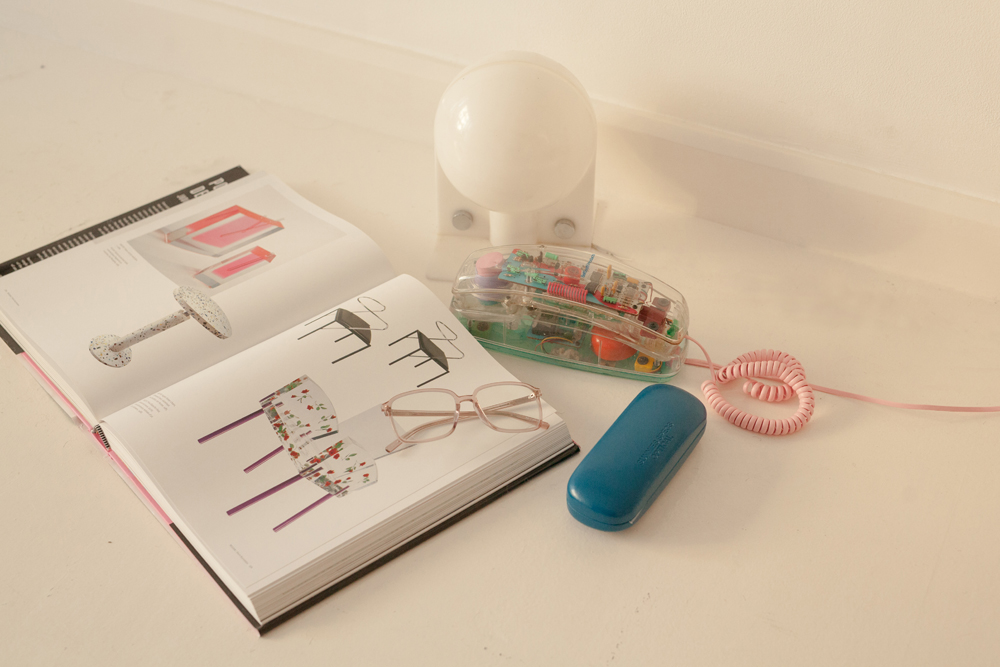 What are your tips to productivity?  "Making lists and checking them off! And, feeding yourself. I can't think properly when I'm hungry."
What's the best piece of business advice you've ever received?  "Be someone people want to work with. You can be super wickedly talented and brilliant, but if you're awful to work with, no one ever wants to work with you again. Another one is to remember why you started because that principle should navigate your decisions."
What does a typical work day look like?  "A laundry list of approvals — samples, packaging, product development, social media and content creation, shoot production, and a lot of brainstorming. A lot of laughter and idea-sharing. Lots of decisions. I work with an amazing team here in the Philippines, best in the country in my opinion."
Any exciting projects on the horizon?  "Lots of exciting new products with Sunnies Face! We're constantly thinking about product development and creating new things. I'm also working on a book, as well. 2019 is a busy, exciting year."