Neada Jane (who a little over a year and a half ago became Neada Jane Deters in the most beautiful destination wedding you'll ever lay eyes on) was one of those individuals I stumbled upon by pure happenstance — I, too, just happen to be getting married next month. I've always gravitated toward simplicity, but I think what some individuals fail to recognize is that simple doesn't necessarily default to scarce, plain, or dull. To practice simplicity in life is to exercise the utmost intentionality in everything one does. It's purposefully allowing space only for the items that bring a certain level of beauty, class, or joy to his or her world. It's Marie Kondo-ing to the nth degree.
Neada is the epitome of simple in its most captivating sense. Everything she creates possesses a specific air of light and vision. The theme remains in her wardrobe selections, the imagery and artistry of her social media feed, and in her brainchild, LESSE, which strips skincare down to the essentials in its "less is more" mentality. Neada proves that sometimes the "All Eyes On" quality isn't strictly reserved for the loudest person in the room. There's intrigue in what's soft. Here, the 20-something, skincare brand founder invites us into the quieter corners of her world, sharing everything from her prescription for the perfect night-in, her habitual daily rituals, and dreams of owning a pudu.
Instagram handle: @neadajane
Location: Los Angeles, California.
Occupation: Founder & Creative Director, LESSE
Tell us a little bit about yourself.  "I grew up in Sydney thinking I would study law, but fell in love with art and design. That's what brought me to New York in my early twenties — the art galleries — but I ended up working at Vice. It was a wild and memorable time. Then I moved into fashion, but after several years burned out, so I moved to Los Angeles. After a couple of years of research, product formulation, and brand development, I launched LESSE a few months ago. It's organic, elevated, essential skincare. Now I live in Venice Beach, working on LESSE and reading morose books or spending time by the ocean. I also love poetic films, traveling, politics, vintage clothing, and of course, art and design."
What's your sign? "Virgo sun, Aries moon and rising."
Favorite thing about living in Venice? "Nature. I grew up by the ocean in Sydney, and after several years in New York, it was so nice to move close to a beach again. I also love how easy it is to walk or bike around here, which is rare in L.A."
Best place to shop vintage in Venice? "The best vintage in L.A. is on the east side, but I love to shop for vintage online."
Favorite brands discovered on Instagram?  "J.Hannah, Lorod, and Deiji Studios. But, I also shop a lot of vintage. My favorites include: Lucia Zolea, Desert Vintage, and Claude Home."
Cult beauty product?  "LESSE Ritual Serum!"
Any morning rituals?  "I wake up and have a large glass of water followed by a coffee. I'm a little slow to wake up, and I really love this quiet part of the day. Then I'll jump in the shower and wash my face with our Essential Cleanser then apply our Bioactive Face Masque, while I shampoo and condition my hair. When I jump out, I'll towel dry my hair, rub a cube of ice in a circular motion across my face and neck, then apply our Ritual Serum. Then straight into work by about 7 a.m."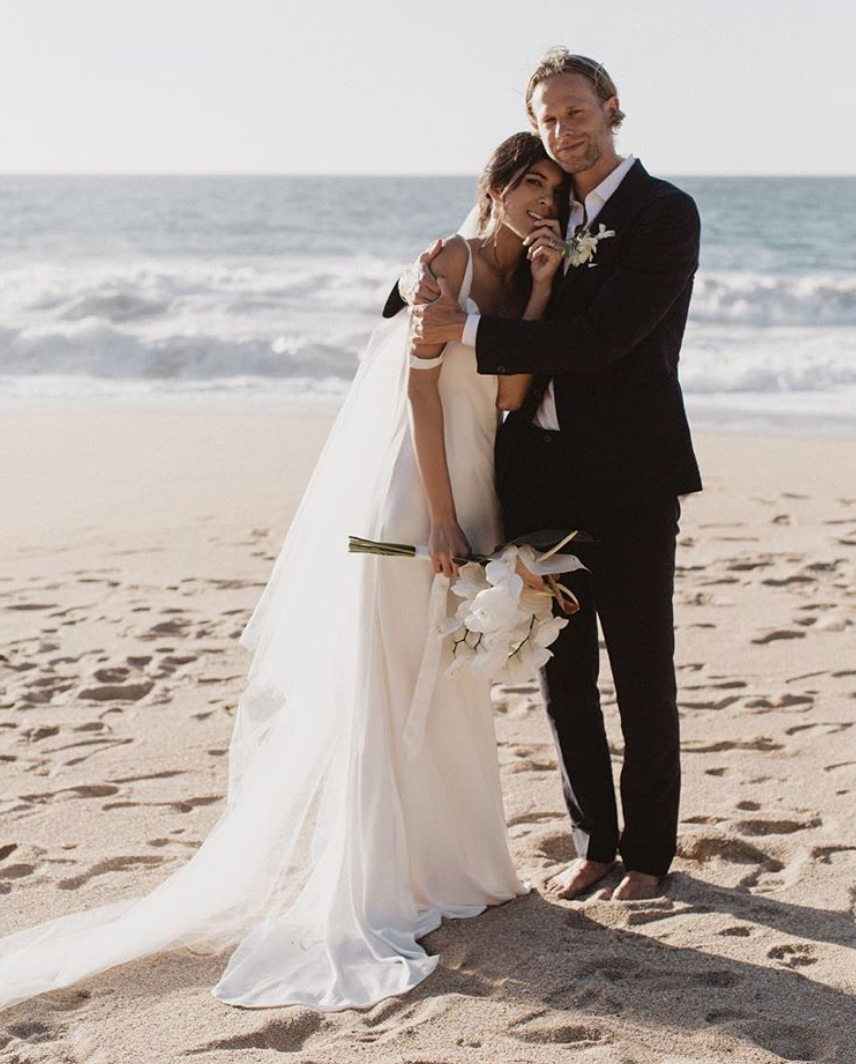 What about evening rituals? "My partner and I have a great ritual of catching up right before bed. We'll talk about our day, upcoming plans, work, why we're excited or stressed. It's a nice moment to recalibrate and reconnect. He always sleeps before me; I'll stay up to tie up any loose work ends from the day. My beauty ritual is the same, and I always sleep with a bottle of water by my bed."
Favorite brunch spot and menu choice?  "The grain bowl or mushroom bowl at Gjusta here in Venice. The food is incredible and they bake all of their own bread! It's the best bread in Los Angeles, and I always leave with a loaf and a few pastries."
Song on repeat?  "'Me and Bobby McGee' by Janis Joplin"
Currently reading?  "I just started Blood Meridien. Cormac McCarthy is one of my favorite authors, but somehow I never read this one — and it's supposedly his masterpiece. Less is next on my list."
You mention you love a morose novel. What's one you think everyone should read at least once?  "The Road by Cormac McCarthy. McCarthy writes in such a beautiful way, with his captivating prose and loose grammar. He's one of my favorites and this dystopic novel is a great introduction to his work."
Shop Neada's Bookshelf
What are your top three favorite films? Any favorite directors?  "Cinema Paradiso, Easy Rider, Reservoir Dogs. There's a slow, subtle beauty and questioning of the world that's common in most of my favorite films, or I love a fast-paced, witty script."
What's a recent movement (social/political/economic) that you think everyone should be supporting and why?  "Too many important movements happening right now that are all so crucial and require our unwavering support and attention: #BlackLivesMatter, #MeToo, reuniting families at the border, ending climate change now."
Fill in the blank: Wake up. ________. Repeat.  "Live with integrity and fervor."
Favorite day of the week?  "Sundays! It's my day to slow down and recalibrate; spend time at the beach or at home with a good book."
What's on your want list?  "A trip to Japan, a 1960s Mercedes SL convertible in cream, the perfect black high-waisted jeans. I'm also campaigning my husband for another dog!"
Signature look?  "Vintage jeans and a white shirt with mid-heel boots or flat sandals. My favorite vintage jeans are always Levi's. Khaite makes the best white shirts, but I have some great vintage ones, too. I live in my Brother Vellies boots and Emme Parsons sandals."
In your opinion, what's the key to discovering your personal style?  "Learning what works is always — in any area of your life — about being open to failure. We have all made some questionable sartorial choices, but along the way we slowly discover the cuts and styles that relate to who we are, our lifestyle, etc. Then we reiterate and reiterate, and finally we cultivate a personal style. So, the key to personal style is a bit of courage and ample trial and error."
Night in or night out?  "Night in for a long dinner with good friends and great wine. That's my perfect night out."
What's made you laugh recently?  "Friends. Lucky to have so many witty, hilarious people around me who don't take life too seriously."
Sweet or spicy?  "Spicy! The more the better. I'm that friend who can't eat a meal without spice. I love Japanese, Thai, and Vietnamese food. If you're ever in New York, be sure to try the Thai food at Uncle Boon's. I always go when I visit."
Best Japanese food spot in Venice? "MTN, which is also my favorite restaurant in Venice. I go for dinner at least once or twice a week."
Coffee or tea?  "I love coffee! In the morning, always a French press coffee, black. In the afternoon, an oat milk flat white."
Where's the best local cup in Venice?  "Great White, Gjusta, and Blue Bottle all have great coffee."
What are your personal indulgences?  "Coffee and red wine! Oh, and pasta and bread! I don't limit myself with what I eat, but I'm careful about the quality of ingredients, and I love to cook. Almost everything I cook is made using ingredients from local farmers. It's an incredible investment in your health and I find cooking helps me to decompress after a long day."
Go-to dinner party recipe? "I love to cook, but never follow a recipe. I'll usually oven-roast salmon with lemon and olive oil or make a mushroom risotto, and I love a decadent salad with almonds, quinoa, and all the trappings. I also make a mean apple tart from scratch."
What's always in your fridge? "Avocados, coffee, hummus."
You have a free day all to yourself. What do you do with it?  "Wake up early and have coffee with my husband, then head to yoga. Then we'll all pile into the car and drive up to north Malibu to meet friends and spend the day on the beach, everyone lounging and surfing. The day usually ends with drinks and a big group dinner at one of our favorite spots on the way home. It's the perfect California day."
What's the story behind Pudu? Tell us more!  "One day I would love to have a pudu! It's a small species of deer found in South America, actually I think it's the smallest kind of deer found in the world. If you've never seen one, I recommend you look on Google right now! Try to tell me you don't want one, too."
What's been the most rewarding part about launching your organic skincare brand LESSE?  "LESSE really comes from this place of understanding what it's like to feel frustrated and left behind by the beauty industry. I struggled with my skin for years before developing my own line. So, it's always rewarding to read emails or messages from people whose skin has transformed with LESSE. I really feel grateful to the people who take the time to write to us or support LESSE in anyway. It makes it all worth it."
What's next for the brand? "We have a few products in development that will be slowly released over the next year — products that our customers have been asking for, along with some that I have had in development for a few years already, since before LESSE launched. We're also going to be collaborating with artists and designers on limited edition products every quarter. The first one launches in a few weeks, with a female artist who I have been following for years. So excited to share!"