Attention all of you jeans and t-shirt girls (and guys!): one of my favorite facets of Bleu is the product collaborations we have in the wings. The concept is simple; we team up with like-minded brands to collaborate on a limited-edition product to offer all of you. The first is one that I hold near and dear to my heart. It's a design effort made between myself and two of my dear friends, Matt and Carrie Eddmenson of Nashville's own Imogene + Willie. I met these beautiful people only a couple of weeks after moving to Music City. We were fast friends and now, nearly six years later, they have become family. It just made sense to put our heads together for our first collaboration. And, obviously it was going to be a t-shirt because I+W makes some of the best there is.
I wanted the tee to be an extension of Bleu's mantra: Off Duty. When we are fully "off duty", we are the truest versions of ourselves. And, throwing on a t-shirt is something that most of us do when we're home from work, most comfortable, and calling it a day. So you see, the marriage was kismet. When it came to the design, I knew that I wanted I+W's signature lightening bolt to be thrown somewhere into the mix because I have a thing for them and I like what they stand for — electric, strength, connection, and power. The original design was a large shield in the center of the shirt with our mantra on the back. It was coming together, but we decided to take it one step further and into a more literal sense by shrinking the shield and placing it on the breast to look like a badge. It was perfect and our Off Duty shirt was born.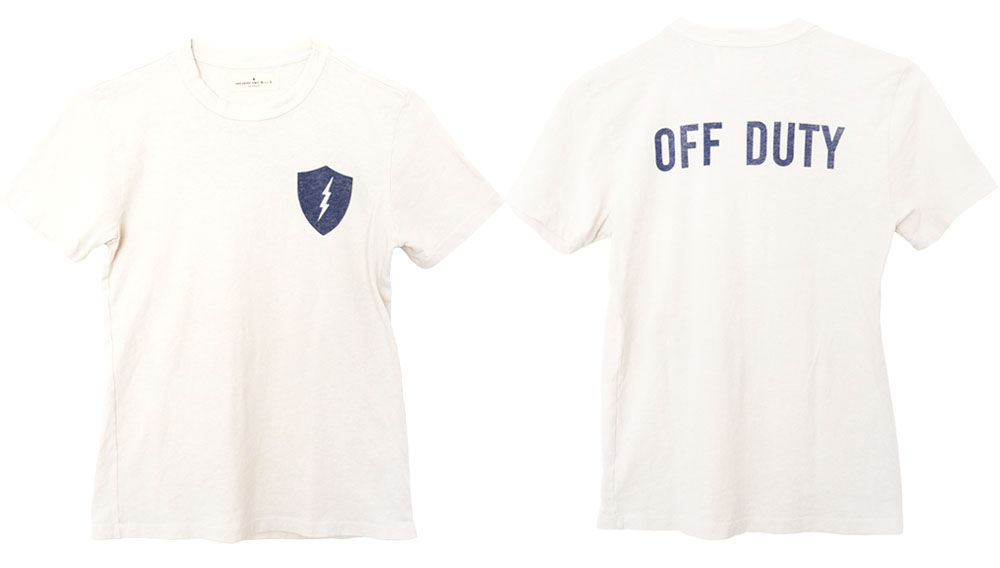 Our 100% cotton tee is made in America by the Imogene + Willie team. Patterned, cut, and sewn in the I+W workshop in Los Angeles, and screen printed in Nashville with our signature bleu hue. Sizing is unisex — we recommend women size down one size from what they would normally wear. The "Off Duty" T-shirts are available for pre-order in our Bleu store for $58. Tees will ship April 30th. We hope you love it as much as we do.