It's 1:41 on a Sunday afternoon. I'm sitting (or actually laying in my bed with my back propped up by three pillows, under the covers because otherwise what's the point of being in bed, right?), with my computer in my lap. The pets are bathing in the heavy sun that's shining in through the windows. I'm unshowered and wearing yesterday's t-shirt and sweatpants with my now cold mug of coffee, a tall half-drunken jar of water, and a lukewarm coconut LaCroix on the bedside table next to me. My husband has taken the kids to the park and my older two are both out of the house doing whatever it is that teenagers do. There's complete silence other than the sound of birds outside, who are most likely chatting to their feathery friends about this beautiful weather. It's the perfect time for me to settle in, focus, and get some work done. I have essays I need to edit, articles that need to be uploaded, emails to answer, products to pull and write about, an upcoming launch party to plan… . But, instead I am feeling alone and unhinged. This is the last place I want to be right now.
I technically work for myself. I am the boss that I need to report back to. I make the rules and my own schedule. Sounds like heaven to some, but it can also feel monotonous and very isolating. For the past 13 months, I've been working ungodly hours with my head down preparing for the launch of Bleu. Friends and family have taken a back seat. Perfect example: my family is out right now, and here I am stuck inside on this gorgeous, sunny day in March trying to finish up a pile of deadlines, so I can finally release this website into the wild. Of course, this is what needs to be done. Building a new company has many moving parts and someone's gotta do the grunt work.
I'm not exactly sure what I am trying to say in this very unplanned and unexpected rambling of thoughts. Maybe it's just that — a spontaneous rant. Maybe it's a nod to acknowledging that I am feeling overworked and the need for rest is something that I tend to ignore. Maybe I just miss my family and my friends. What this is not is a self-pity party, table for one. I am extremely grateful that I am able to work for myself and do something day in and day out that aligns with my passions and allows my creativity to flow freely. Perhaps this essay is simply recognizing that I need to find some balance. Self-care tends to go out the window when we're busy. Right before I started writing this, I made a list in my phone which I titled: A Day To Recharge.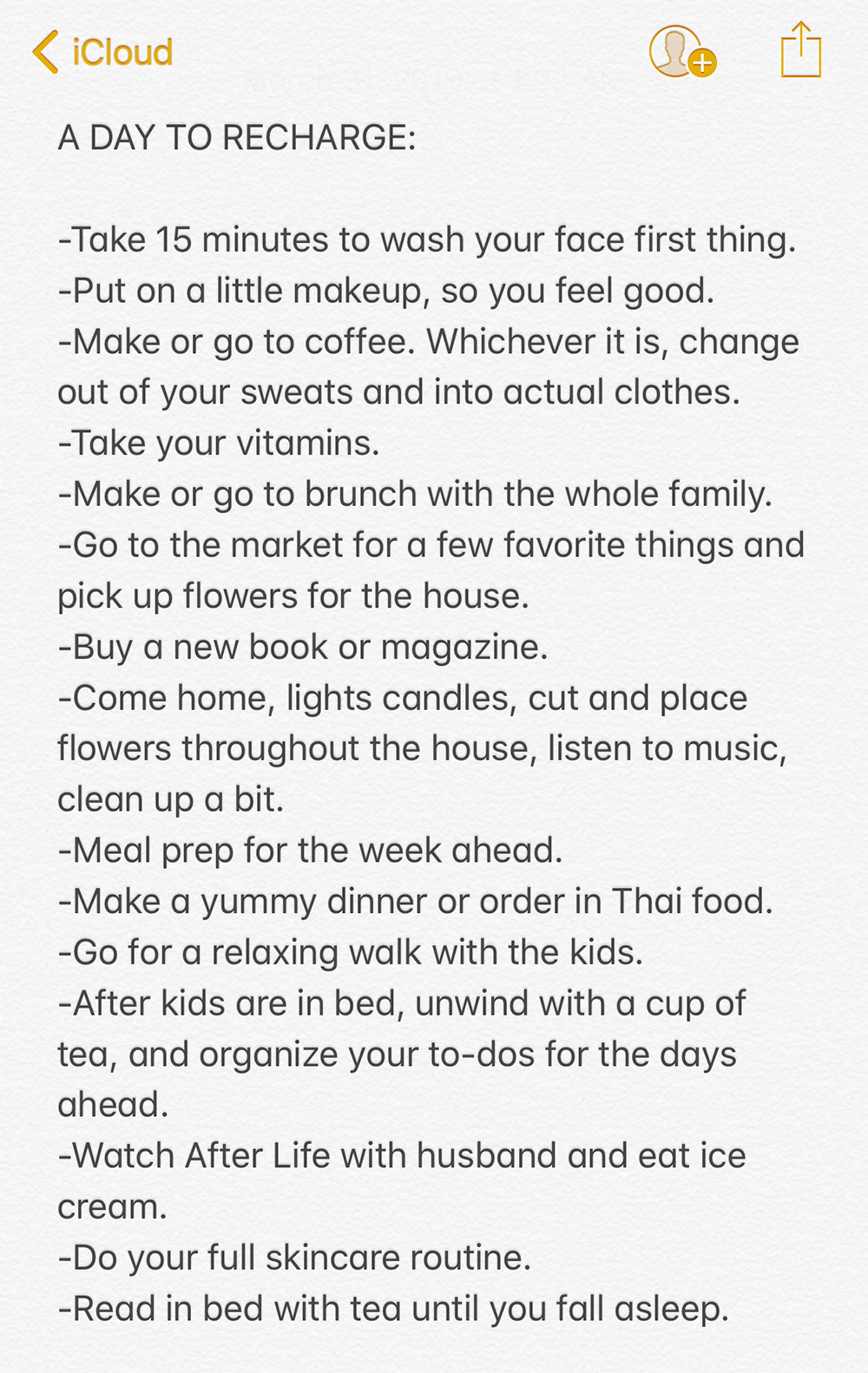 I made this note as an incentive to give myself a day off. My list of things that makes me feel good may look very different from yours. But I thought I'd share it, because why not? Sometimes we need reminders of what makes us happy. My list is full of simple actions that make my days better. While today is not one for me to execute these future plans, I have penciled myself in for tomorrow. I'll be OOO and I won't be checking email. For now, it's back to editing essays, uploading articles, tackling my inbox, pulling products, and party planning, but tomorrow will be so great.