It's no secret that we're big fans of feeling fine in your under clothes. Not fine as in, "Yeah, that'll do." Fine like, "Damn, girl! Go on with your bad self." Whether those undies be made of silk and lace or more accurately resemble your partner's boxer shorts, it's all about feeling 100 when you do decide to strip down to what's underneath. One brand that knows how to make a woman feel good in her skin is Araks. The brand's playful interpretation of lingerie is laced (pun intended) with a healthy balance of color, nuance, and some incredible sustainability practices. What's more to love? Oh, did we mention that Araks also offers swim, sleep, and resortwear, too? Because we could no longer contain our excitement and wonder, three of our editors decided to get up close and personal by taking Araks' lingerie for a proper spin. All different ages, body types, and preferences…read our tried and true opinions, below.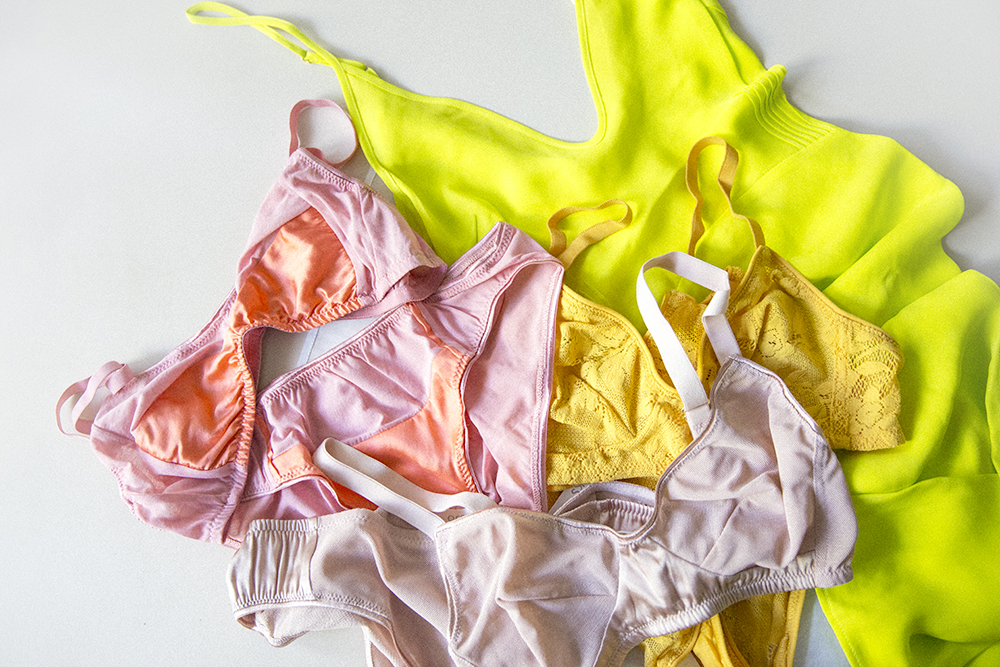 40-something, Editor In Chief, James Kicinski-McCoy
"I purchased an Araks set several years ago after seeing the brand on Instagram and needing / wanting / lusting over the unique, pink hued, two-tone set that now lives in the top drawer of my dresser — it's still in great shape, btw. Since then, I have been a forever Araks fan and have been oogling every new release and new color way the brand puts out. I am a small busted gal and favor a bralette — no underwires ever, please and thank you — so you see, Araks and I get along very well as most of their bras are without. I tend to always size up when it comes to underwear. I prefer more coverage from behind no matter the brand. Araks' underwear does, in my experience, run on the smaller side, so my advice would be to size up in general.
I chose the French, stretch lace, Tamara Bralette with the matching Tris Panty (in a beautiful marigold color, which has since sold out), along with a Cadel Slip to try out for this installment of Take Three. Here are my thoughts: I still love you Araks! Let me first say that this new lingerie set is now one of my all time favorites and I wish to own it in every color. The comfort level is unparalleled, while still managing to look sexy, which is not an easy feat. That said, I plan to make a small investment (the set runs $155) in a rainbow of this duo. I highly recommend it and think those with a bigger cup size than mine would do just fine in the support department. The quality and construction is tenfold, so I think, although a bit on the pricy side, it's worth every penny. The Cadel Slip is also a win, is completely stunning, and another I'd recommend if you've been looking for a nice, well made, classic, silk slip dress. I sized up again and went with the medium. I'm glad that I did because it fits a little looser, which I prefer in a slip. I wore it to a friend's dinner party a few weeks ago, and although a bit sheer, it's not totally see through and doubled as a great little cocktail dress. It's lightweight and comfortable and the construction on this piece is superb. So, as you can see, I have zero complaints with Araks. I am still a forever fan. The brand leans a little high when it comes to affordability, but in its defense, the collection is 100% locally made in NYC with sustainability, quality, expert design, and construction as its focus. It feels like a slice of luxury when it arrives at your door. You get what you pay for."
20-something, Senior Managing Editor, Tiana Gidley
"I have always admired Araks from afar, as I think the brand's approach to lingerie is quite unique. The cuts, the silhouettes, the colors. It's all incredibly refreshing. And, where my previous frame of reference for bras and undies (and perhaps something a bit more revealing) only included the often overly complicated designs hanging on plush, silk hangers along the walls of Victoria's Secret, Araks opened my world to a completely different definition of sexy, one filled with playfulness and embracing your femininity, and honestly, an understated simplicity. I had heard rave review after rave review around the office and from the ladies we interview for Bleu. So much so, that by the end, I assumed it would transform me into one of those women who wears lingerie leisurely while reading the paper on her stomach in the bed in the morning, kicking her feet without a care in the world. You see, I don't like to strip down. I like oversized tees and comfort. Call me a romantic, but when I finally received the opportunity to experience Araks IRL, a naive part of me thought it would be the brand to change all that, the one to make me bear it all for once. In the end, the experience turned out to be slightly different than the romantic vision I had conjured up in my brain, but allow me to explain.
Let me start first by stating for the record that the quality is stunning. I opted to go with the Yanelis Bralette and Liselott Panty and when they arrived, it was the closest I've felt to Christmas morning since I was a kid. It is, hands down, one of the best lingerie sets I own based on quality alone. The fabric is buttery and the colors are vibrant. I particularly love it because I tend to be very neutral when it comes to my wardrobe. So, I feel an odd sense of satisfaction knowing I can sport a pop of color underneath my day-to-day ensemble and still have a bit of fun, even if only for myself. If you love lingerie and it's an investment you're willing to spend a little extra on, I can say without a shred of doubt that you will not be disappointed with Araks. And, if you show up to a bachelorette party doting one of their sets as your gift, you will win best present award hands down.
My only drawback with the brand is the sizing; it runs small. And, to their defense, James, who has owned and loved an Araks set for quite some time, warned me about this prior. I suppose I underestimated just how small, however. I did my due diligence. I studied the sizing chart. I mulled over my options for a few days. In the end, I went with a 'medium' bralette and a 'small' panty, which usually fits me just right. But, while the set fit, it was definitely a bit snug. So snug, in fact, that I certainly did not feel like laying in bed, reading the paper and kicking my feet with a sunny, carefree disposition. I felt a bit defeated. However, I decided to try my luck and reach out to see if they'd be willing to exchange my 'small' Liselott panty for a 'medium'. To my delight, I received a quick response and a glowing "of course" and we were back in business.
While I haven't received my exchange quite yet, I already know that it will make me feel far more comfortable. And, it was naive of me to think that a lingerie set could change my overall feelings on body image and my comfort level when stripping down in the first place. If anything, Araks taught me two very important lessons. First and foremost, size up when shopping in the future because I'll definitely be back for more. Lesson two? Feeling good without clothes on has much more to do with how you're feeling internally, than what you're wearing (or not wearing) externally. And, while choosing the right set from Araks can help boost confidence — and trust me, it's so gorgeous that it will — it still won't make you feel any better about your body if you're not already in the right headspace going in. I'm working on it."
40-something, Contributing Editor, Sarah James
"There comes a time in one's life when it seems apropos to pony up for luxury lingerie. With 45 just around the corner, I've entered that realm with trepidation because, let's face it, I'm totally down with my Amazon Essentials black cotton bikinis. I love them. What can I say, folks? But, pretty lingerie is so lovely and it's always nice to have a few special pieces for the days when you are feeling extra worthy. The Tasia Bralette and Tove Panty by Araks have become favorites of mine for many reasons.
First off, they are in the most perfect nude shade of pink. Millennial pink, blush pink, buff, whatever you want to call it, I still love this shade and it's perfect for lingerie because it disappears under my clothing. Second, the fabric is to die for — stretch silk charmeuse and a soft Belgian power mesh make a stunning combination. They are sheer, but not too sheer, you know what I mean? Feels fantastic against the skin as well.
Um, can we talk about the strategically-placed seams on the panties that naturally draw the eye inward to create a lengthening effect? Sign me up! These mid-rise panties are damn flattering, plain and simple, although I'm not going to lie, $60 for ONE pair of panties seems slightly outrageous.
Finally, I'm always grateful for bralettes that are made for busty types. I felt completely supported with the D-cup bralette. My only beef is that only a few styles are made for D-cups. I'd love to see more options in the future! If you are looking for beautiful, high-quality pieces that are made with sustainability and environmental impact in mind, look no further. Just make sure your pocketbook is prepared."