True story: when I walked into the breezeway of newly 30-something, Bec Adams', building located in the Nolita neighborhood of NYC, she greeted me with her kind smile, lovely Australian accent, and the words, "How was your flight from Paris?". I was confused, only for a second, and quickly put together the logic behind such a question — the French spelling of bleu. I quickly explained that I was not in-fact from Paris, but that I had traveled just a brief two-hours in the sky from Nashville, Tennessee and we had a good laugh. It was the perfect ice breaker.
We trekked up the three flights of red stairs to her apartment. The stairwell was filled with the subtle scent of the Chinese food coming from the restaurant directly below, and I immediately craved lo mein and Schezwan fried rice. Once we arrived at her door, we removed our shoes and walked inside. The apartment was small, but had a very intimate, warming feeling. Perhaps it was the low lamp light in the kitchen, but my fried rice cravings were suddenly forgotten and I longed for a glass of red wine. I couldn't help but slip into one of my "Sex In The City" daydreams of living solo in a tiny New York apartment in another life.
I knew that Bec spent her nights deejaying all over the city and was Founder of Les Filles, an all-female lineup of DJs. But, what I didn't know was that she also moonlights and a music and entertainment lawyer by day — in other words, she's a f*cking badass. Bec was born with music running through her veins thanks to her pianist mother and record-collecting father, and she's created a career path for herself that encompasses and feeds her musical passions. She's driven. She's unpretentious. She's one of those people that you immediately gravitate towards in a room. She's kind, laid back, and good conversation. I spent just shy of two hours with Bec and I felt more like I was spending time with a close friend, rather than working with someone I had only just met. When our shoot wrapped, she extended an invitation to an Andy Warhol party she was deejaying later that night. Sadly, I had other plans (which I did consider cancelling), but I knew she was someone that I would grab a drink with next time in New York or LA, since she spends time working on both coasts. Let's get into the interview.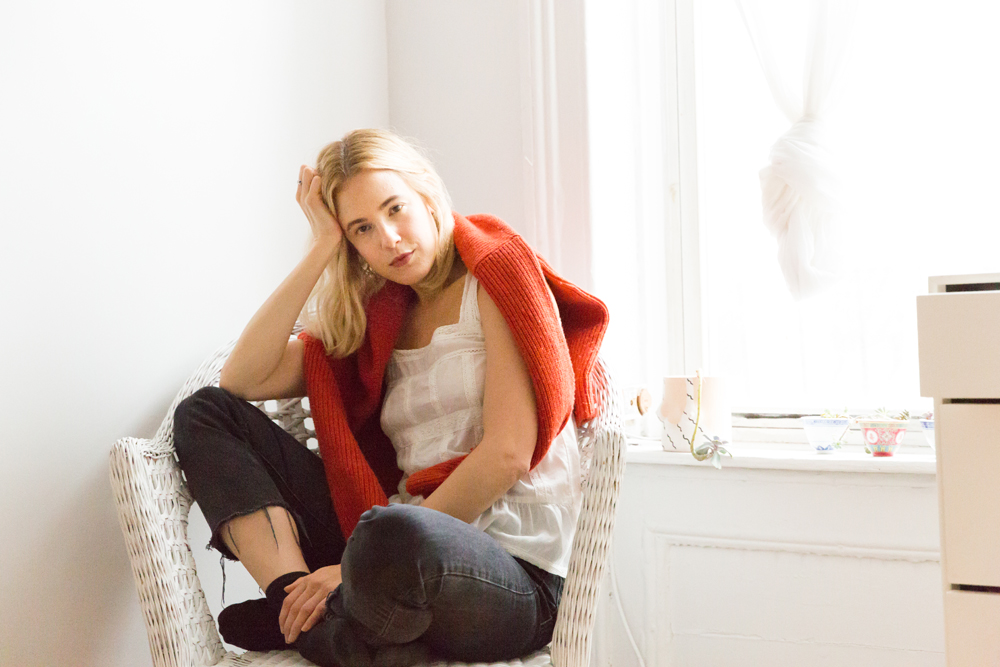 Favorite way to spend a day off?  "Reading a book at a favorite coffee shop in the sun, followed by a trip to a farmers market to buy fresh vegetables and flowers, and going on a long hike with friends."
What's your sign? Do you think it matches your personality?  "Aquarius — Yes! I'm an airy fairy, but have a lot of logical work going on in my brain."
What's a philosophy you try to live by?  "The past year, I learned that I needed to focus on balance to create a wellbeing in body and my mind. I followed my heart to do what I love, but made sure to say 'yes' and 'no' correctly to ensure my health and happiness is my first priority."
Tell us about your apartment.  "It's my cozy and quiet hideaway from the crazy energy outside of downtown Manhattan. I feel so lucky that I seem to have found one of the only quiet blocks in this city."
Tell us about the art in your home.  "I am a romantic; I adore Egon Schiele, Klimt, and vintage Japanese prints. I had a lovely boy I once was romanced by build the frames for me. I feel so spoiled; my prints are housed in beautiful wooden homes by him. Quality framing really is a must."
What's your favorite part about living in Nolita?  "Anything feels possible, as most things I want in life (simple pleasures), like a cup of coffee or a new book are just a few blocks of walking away."
You're originally from Australia; how long have you been stateside and why the move?  "Six years. For work, and my romantic affinity with New York City."
What do you miss most about home?  "The beach and my family."
Where do you shop for home decor?  "Vintage markets and Etsy."
You mentioned a love for hydrangeas. Any story there?  "I adore the color blue they exude, just like Bleu!"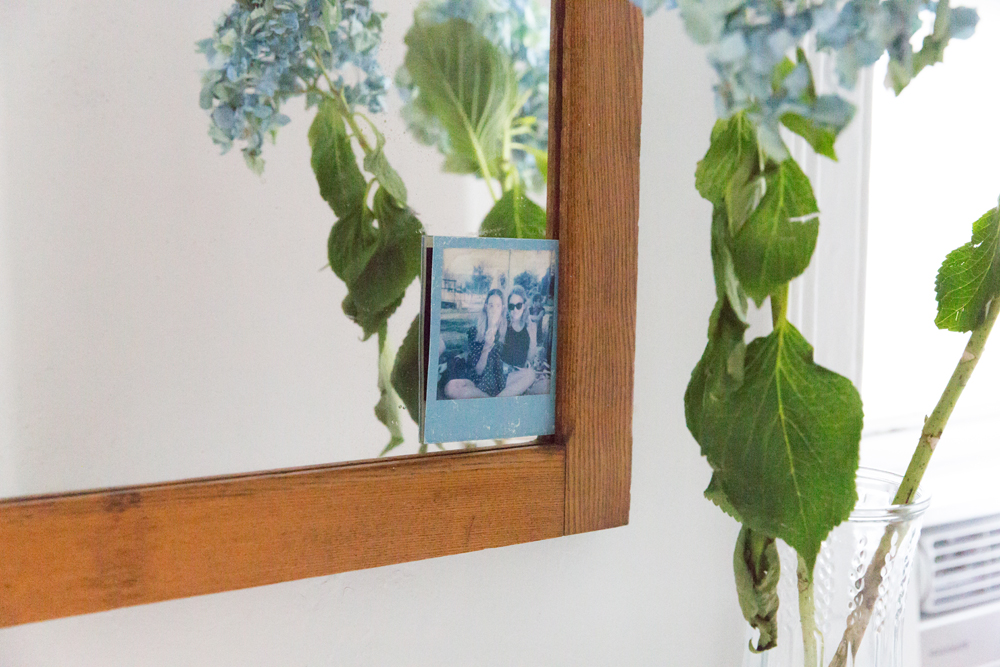 Favorite books?  "If I could only read five books for the rest of my life, they would have to be: The Pictures of Dorian Gray by Oscar Wilde, The Unbearable Lightness of Being by Milan Kundera, The Alchemist by Paulo Coelho, and The Folk of the Faraway Tree by Enid Blyton."
Coffee table books or magazines you love?  "The New Yorker."
Favorite candles?  "Apotheke, or anything tobacco-scented, albeit I hate tobacco and smoking."
What's the last movie you watched that you particularly enjoyed?  "Bohemian Rhapsody — I love music biopic."
Song on repeat?  "Watch Me by Labu Sifre."
One app you could never live without?  "Spotify!"
What are your hobbies outside of work?  "Reading books, making homemade almond milk and granola, growing my vegetable and herb garden."
Night in or night out? How do you spend it?  "Night in! Making vegetable bowls with my favorite friends, listening to records, having a glass of organic red wine."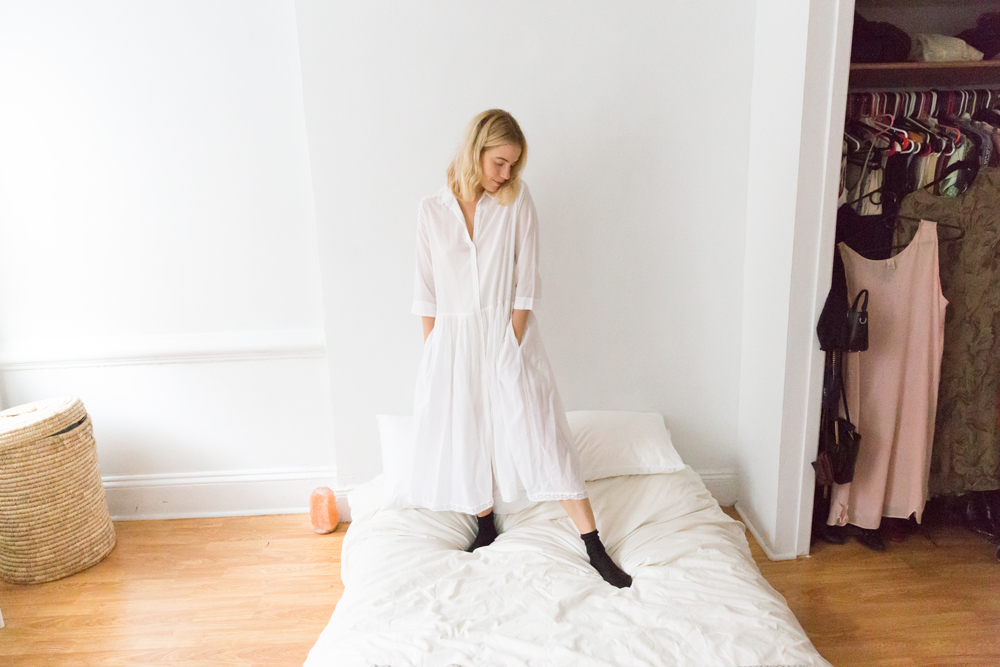 Describe your style.  "Romantic. Effortless. Comfortable."
What trends are you currently loving?  "High-waisted vintage Levi's jeans — for a few seasons and all seasons please forever trend."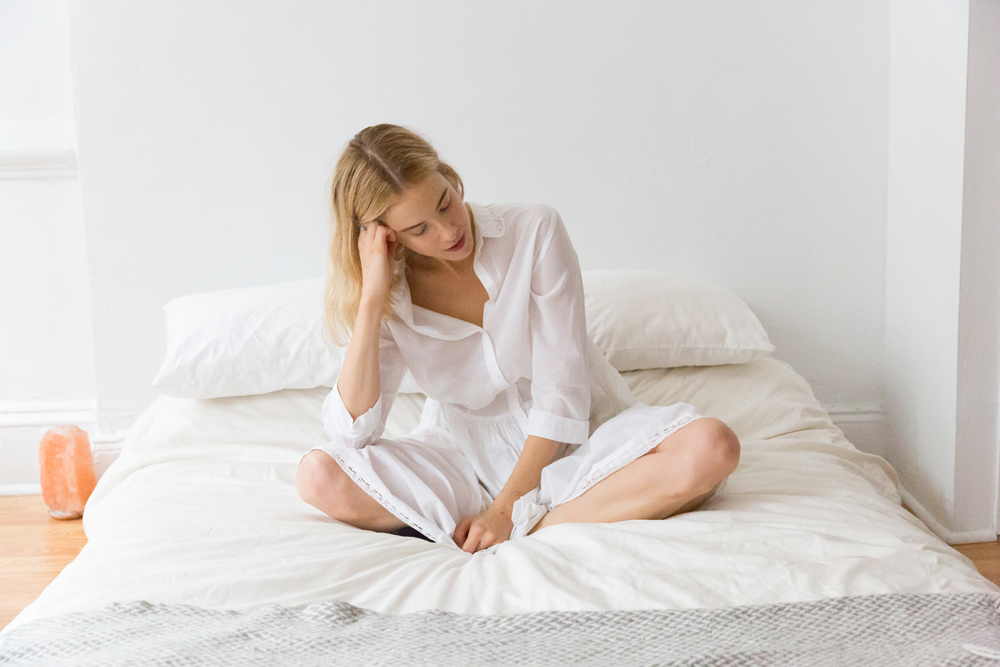 You have three minutes to change. What do you wear?  "Vintage Levi's, a silk camisole, and Gucci loafers."
Who, what, where inspires your style the most?  "Foremost, it comes from a desire internally to feel comfortable, yet feel romantic. Secondly, from the women I admire, like Sofia Coppola."
What are three things on your want list?  "A vintage Dior silk dress, this beautiful vintage fur coat from Maje that keeps disappearing before my credit card can purchase it, and Prada snow boots."
What do you have way too much of?  "Old t-shirts and sweaters. I have trouble throwing them out. They have stories I cant seem to part with."
Your five wardrobe staples, go…  "Vintage Levi's (there is a theme here), silk slip dress, silk camisole, vintage fur coat, Chuck Taylors or loafers."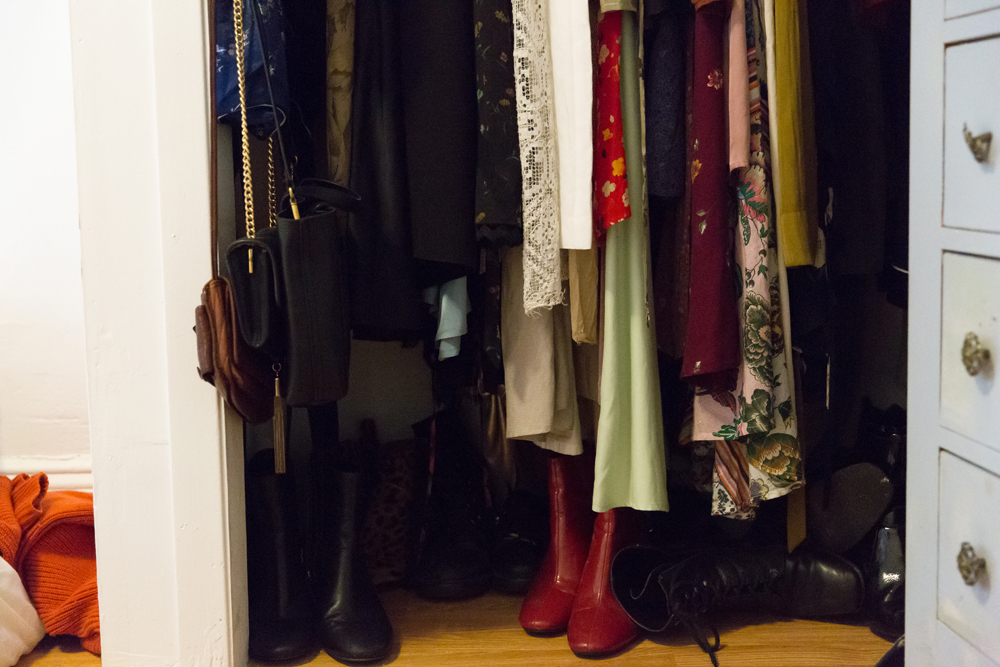 What's the one thing in your closet you would save in a fire?  "Anything that my mum gave me."
Your first luxury purchase?  "Sass and Bide jeans when I was in year eight in high school — they were such a thing in Australia!"
Accessorize or keep it simple?  "Simple! There is elegance in less."
Favorite designers or brands?  "Chanel — Gabrielle Chanel was one of the first powerful women I ever admired. Her story I know inside and out and will forever cherish her legacy. Everlane is an incredibly ethical company, inside and out, from their employees to their products. Gucci for the loafers, Converse for the Chuck Taylors, and Dior for the inspiration to forever be a fairy."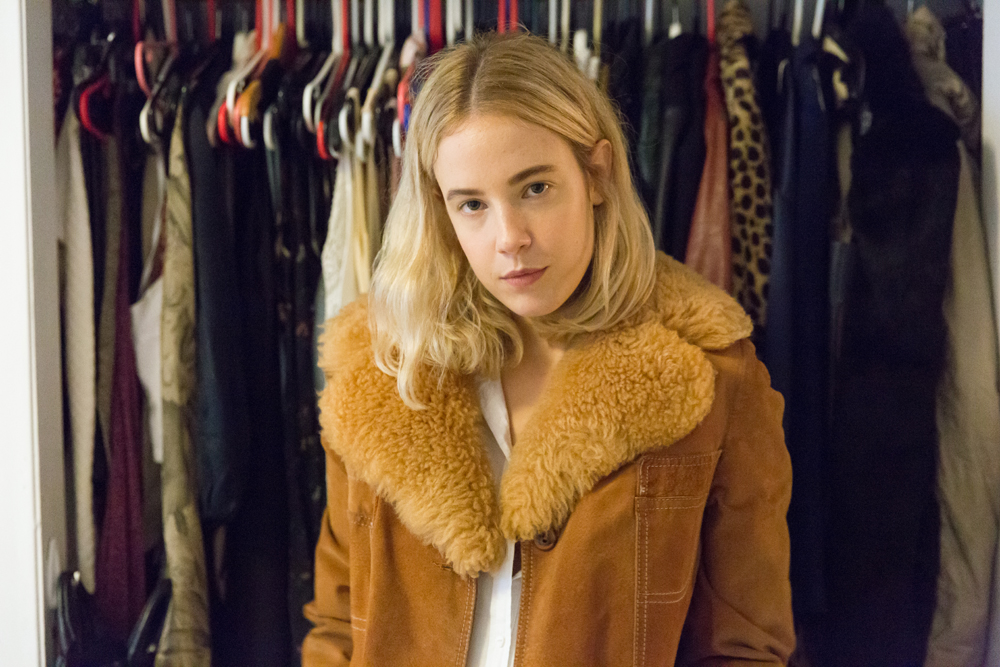 Tell us the story behind your slip dress collection.  "I want to forever feel like I'm wearing nothing but swimming in a sea at all times. This is the closest I can get to it in NYC!"
Favorite place to scout vintage online?  "Etsy! I find all my 1920s silk dresses from there that weren't handed down to me from my mother and grandmother."
Favorite place to buy vintage in Nolita?  "I don't really shop vintage in my neighborhood. Awoke Vintage and Armachord in Williamsburg are my forever favorite places."
Favorite online shop?  "The Outnet."
Dresses or jeans?  "[Laughs] I cannot answer this."
Heels or flats?  "Flats forever. I've never owned a pair of heels."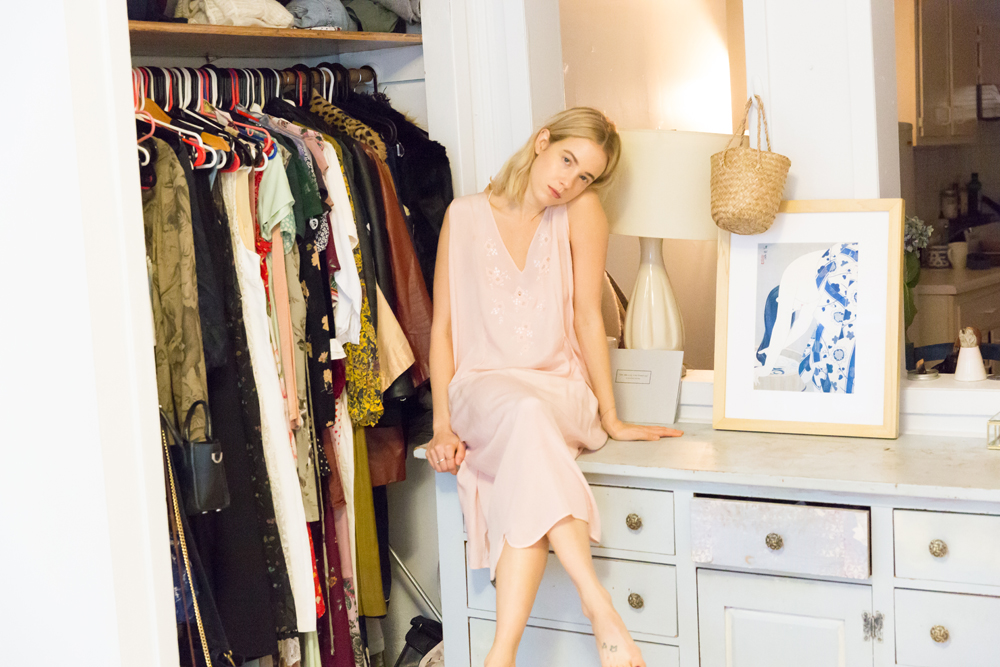 You're staying in L.A. for a few months. What's behind the extended trip?  "Something special I can share for work soon/building out my very own vegetable and herb garden."
Do you prefer L.A. over New York or vice versa?  "It's apples and oranges. In L.A., I can live the healthy holistic life I dream of, and in New York I can leave my apartment and go wherever my feet and heart want to take me."
Tell us about Les Filles.  "Les Filles is a female music agency — it's developed over the year! Forward and front-ward facing, it is a female DJ agency. The other side people don't know about is the creative music direction elements. We are on a mission to help brands sonically brand themselves to align their visual message, and enrapture all the senses of a consumer's experience via sonics."
You're a lawyer by day. Who or what inspired you to start practicing music law?  "Yes! I work in music licensing with Les Filles, and in licensing contracts with my business partner Jackie Swerz at Greenlight Licensing. I always saw the movies growing up as a child and wanted to know who was the lucky person who got to chose the soundtracks for the different scenes. It turns out it was music supervisors who then have to license tracks, who then have to… that would take me seven years of law school and five years of workforce knowledge to explain."
Who should everyone be listening to?  "Labi Siffre. Ryuichi Sakamoto. David Ruffian. Tony Allen. Beach House."
Anything exciting in the works for Les Filles?  "Many upcoming projects for the rest of the year! I just cannot announce them yet."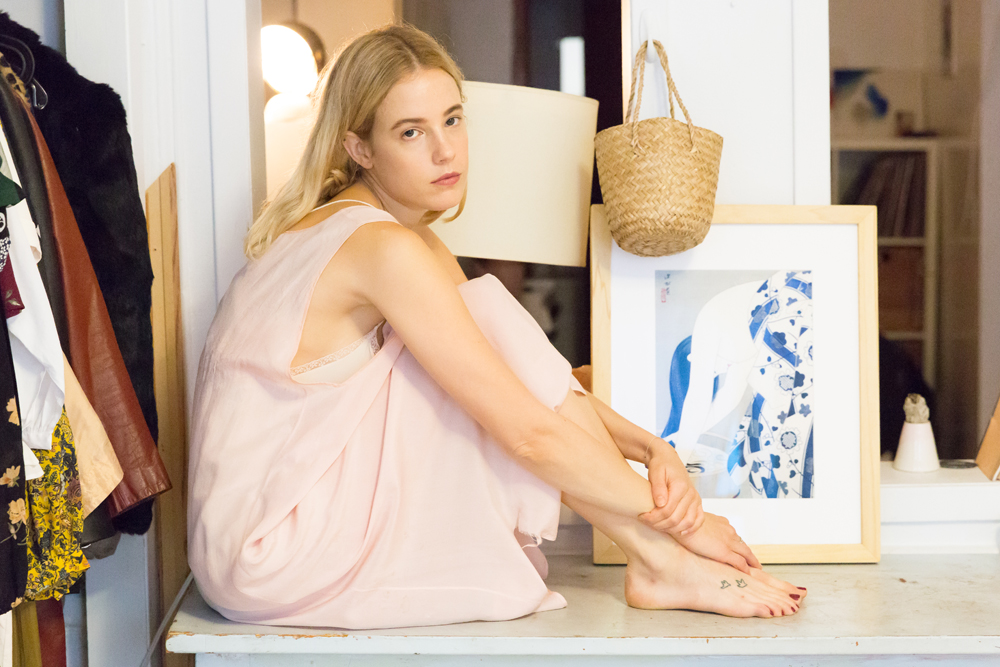 Any supplements you take/magic elixirs you make or swear by?  "Ashwagandha! For my adrenals. And, Magnesium before bed for restful sleep."
How do you stay in shape?  "I run about five to 10 miles five days a week. And, I do reformer pilates twice a week!"
Favorite workout gear?  "Tory Sport!"
What does self-care look like for you when you're off duty?  "A long, relaxing hike in nature, listening to a podcast or good music."
Coffee or tea? How do you take it?  "Coffee with homemade almond milk and a spoon of sugar."
Fave local cup of java?  "Bluebottle Coffee — thank goodness there are many for wherever I travel."
Fave cookbook?  "Eat Beautiful by Wendy Rowe."
What's your go-to dinner recipe when cooking at home?  "Roast vegetables (carrot, Brussels sprouts, cauliflower, and broccoli) with lots of olive oil and turmeric at 400 degrees in the oven for 45-minutes or until crispy and a little brown. Steam kale, put it all in a bowl, and add hummus and avocado on top. Oh, and tons of hot sauce."
Your apartment sits above an Asian restaurant. Tell the truth: how many times a week do you frequent it and what's your go-to order?  "I never do! I try to be as plastic-free as possible."