Los Angeles has never looked so good (or delicious!) as it does through the camera lens of Virginia Calderón. I first discovered Virginia a couple of years ago during one of my frequent Instagram vortex sessions. I can't remember what led me to her, but I do recall being immediately captivated by her unique, fun, and nonchalant approach to fashion, her eye for capturing daily moments with an appreciation for beauty, and the incredible plates of food she shares and enjoys — this girl doesn't just eat repetitive salads and Moon Juice like so many of her L.A. counterparts. With a missed connection on two separate occasions while I was working in La La Land, I thought it appropriate to go ahead and introduce you to this very cool babe and her small slice of the Internet. Hopefully the next time I'm in town, we will finally have a proper meet-up, share a delicious meal over a bottle of orange wine, and snap a few photos along the way.
Instagram handle: @_chicadeoro
Location: Los Angeles, California.
Occupation: Designer on sabbatical, freelance branding and marketing.
Tell us a little bit about yourself.  "I never know what to say in these, but here we go: I am a design enthusiast that appreciates people and things with style. I have been living in Los Angeles County my whole life. I am a first-generation Mexican American. I appreciate family, friends, social gatherings, and all things beautiful in life including things as simple and as soulful, good food."
Favorite thing about living in L.A.?  "It's home. I live for the weather and the kindness of the people here. I love how you can go from the desert to the beach to the mountains all within 45 minutes (if there is no traffic), and the diversity of people."
We love your style. What's one trend you are currently loving and wish would stay for the long haul?  "I love the fact that color is popping up everywhere. It brings me so much joy to see bursts of colors on people now versus just beige."
Daily uniform?  "Always gold jewelry like my Virgencita de Guadalupe necklace and stacked gold rings that never come off, and a fun pair of shoes. Everything in between is ever changing."
Favorite designers?  "Rachel Comey, 69 US, Ilana Kohn, Marni, Maryam Nassir Zadeh, Caron Callahan, and Studio Nicholson."
Favorite local shop?  "Now Serving in Chinatown. It's the only cookbook store in L.A."
Fave online shop?  "Garmentory because I can't just pick one."
Favorite small brands discovered on IG?  "Untitled, Revisited Matter, and 6397 News."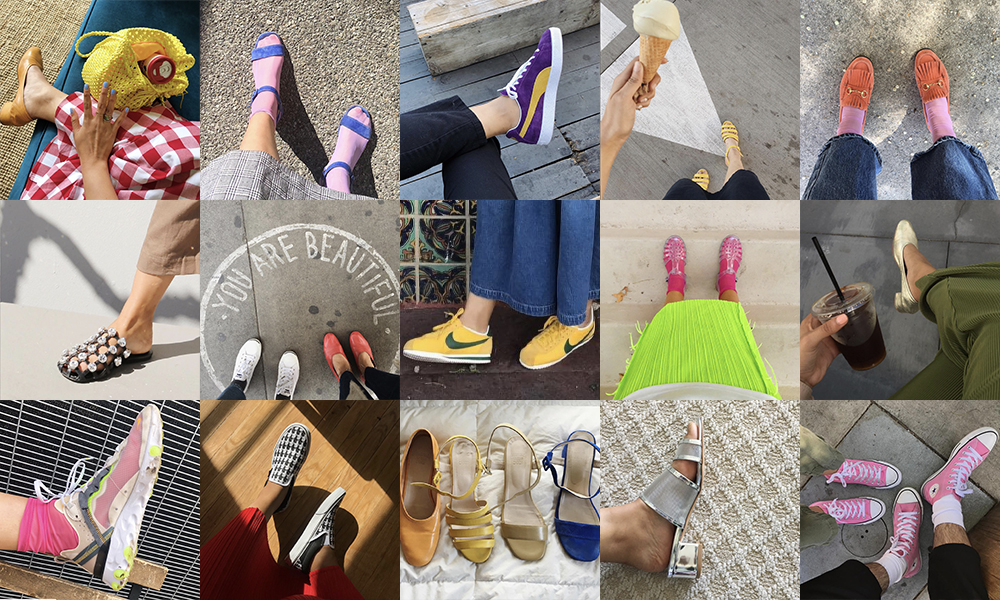 You have an epic shoe collection from the looks of it. Any favorite pairs you have or styles you can share?  "Wal & Pai clogs because they are beautifully crafted shoes and dear friends of mine, Margiela Replicas because it's a classic sneaker and easy to wear, and my MNZs which I gravitate towards when I need a funky shoe."
What's on your want list?  "Waka waka chair, emerald gold ring, Rachel Comey jumpsuit, and a Dyson vacuum."
Cult beauty product?  "Everyday oil and PRNCPLS toothpaste."
Favorite local boozy drink of choice?  "The Dreamtigers from Bar Calo. It's a mezcal blend with plantain-infused tequila, orgeat, fresh lemon juice, pineapple juice, and mole bitters."
Favorite local cafe and menu item of choice?  "Maru Coffee with an iced oat milk cappuccino and chocolate croissant."
Go-to dinner party recipe?  "Shakshuka."
What's always in your fridge?  "Cholula, pickles, olives, hummus, cheese, bubbly water, and wine."
Fave quick snack?  "Hummus."
Tell us what being in freelance branding and marketing looks like and how you got there.  "I started in apparel design and product development in the action sports industry, then moved to the contemporary market. While working with one of the brands, I took on marketing and the rest is history."
Favorite project to date?  "A personal project when I created a shoe line and worked with Mexican shoe artisans. Being able to dream up shoe designs, work with artisans, and get a finished product. It brought me so much joy."
You run the Instagram account @_orange_wine_. Tell us why you started it.  "It honestly started off as a joke, but friends started sending me pictures of them enjoying it. I realized it could be a non-specific celebration of skin-contact wine, which is kind of metonymic for other aspects of my life: natural, funky, not white."
Fave three glasses of orange wine you've enjoyed so far.  "Three is hard because I've enjoyed every glass I've had. I love how each bottle is unique. But, I love the glasses I've had from Viteadovest, Costadila, and Meinklang Farm."
Current artist whose album you can't stop streaming?  "Forever streaming Channel Orange by Frank Ocean."
Currently reading?  "A poetry book called There Are More Beautiful Things Than Beyoncé by Morgan Parker."
What's your sign?  "Pisces sun, Capricorn rising, and Sagittarius moon."
What's your philosophy when it comes to self-love?  "You need it most when you think you least deserve it."
What's a recent movement (political, economic, social) that you think everyone should be supporting and why?  "1. The fact that we need an immigration reform in this country because without immigrants this country wouldn't be anything. 2. Fashion and its extreme impact to the environment. We all wear clothes and we should all be held accountable for the pollution, constant consumerism, and the species we are killing to temporarily trend or look good."
Favorite apps you use on the reg?  "Gmail, Resy, Calm, Caviar/Postmates, and Instagram."
Favorite Netflix series?  "Just binge-watched Friends From College."
Favorite place in the world to visit or travel to?  "Mexico because that's where my parents were born, and I still have a lot of family there, along with its beautiful traditions and food."
Any morning rituals?  "I drink pour-over coffee and watch Vice News Tonight every morning with my partner."
Evening rituals?  "I journal, light candles, and enjoy an episode of trashy TV."
Guilty pleasure or necessary indulgence?  "Going to a coffee shop at least five days a week and getting an oat milk cappuccino."
Night in or night out?  "Night in with a great bottle of wine and company."
Any cool spots in L.A. worth mentioning for out-of-towners to check out?  "Norton Simon Museum, The Huntington Library, experience a farmers market (Santa Monica on Wednesday and Hollywood on Sunday) — we get the best produce — and Rose Bowl Flea Market."
You have a free day all to yourself. What do you do with it?  "I would wake up early, read, and make coffee, walk around my neighborhood, pick up a sandwich at Wax Paper to picnic at Echo Park Lake."
What's on the horizon for you?  "Creating beautiful things with purpose for myself and the people I love."