I was lucky enough to taste Julia Sherman's cooking in real life at an event for Domino Magazine that my girl Jen hosted for a group of our friends last year. Every aspect of the meal was insane, but the standout dish for me was the soup. It was a corn-based soup with lump crab meat and I swear to you, I still think of that bowl of golden goodness on the reg. I knew that if Julia was going to contribute a recipe to Bleu that is had to be soup. You'd think she would be cooking up an immaculate salad for our drooling pleasure, I mean she wrote a book called Salad For President, which I proudly own and use, and I freakin' love salad, but no — bring on the soup, please! The fact that she showed up with a Thai coconut version made my heart jump (I love Thai food!) and my mouth is salivating just thinking about it. I cannot get into the kitchen fast enough to try this!
"I have been making a version of this soup at least once a week this past season. The basic flavor combination is versatile and can be altered with added seafood, poached chicken, oyster or beech mushrooms. I like to use a homemade chicken stock, but if you plan to add fish, try fish or shrimp stock as your base. Just add the fish and/or shellfish at the last minute, cover and simmer until is cooked (about 3-5 minutes). If you are in a rush, don't worry about whipping the coconut cream, that's really a step for pretty presentation; I certainly don't bother with it if I am making lunch for one. If you're feeling fancy, try adding some finely minced makrut lime leaves to the spice mixture. They can be hard to find, but are always worth the hunt."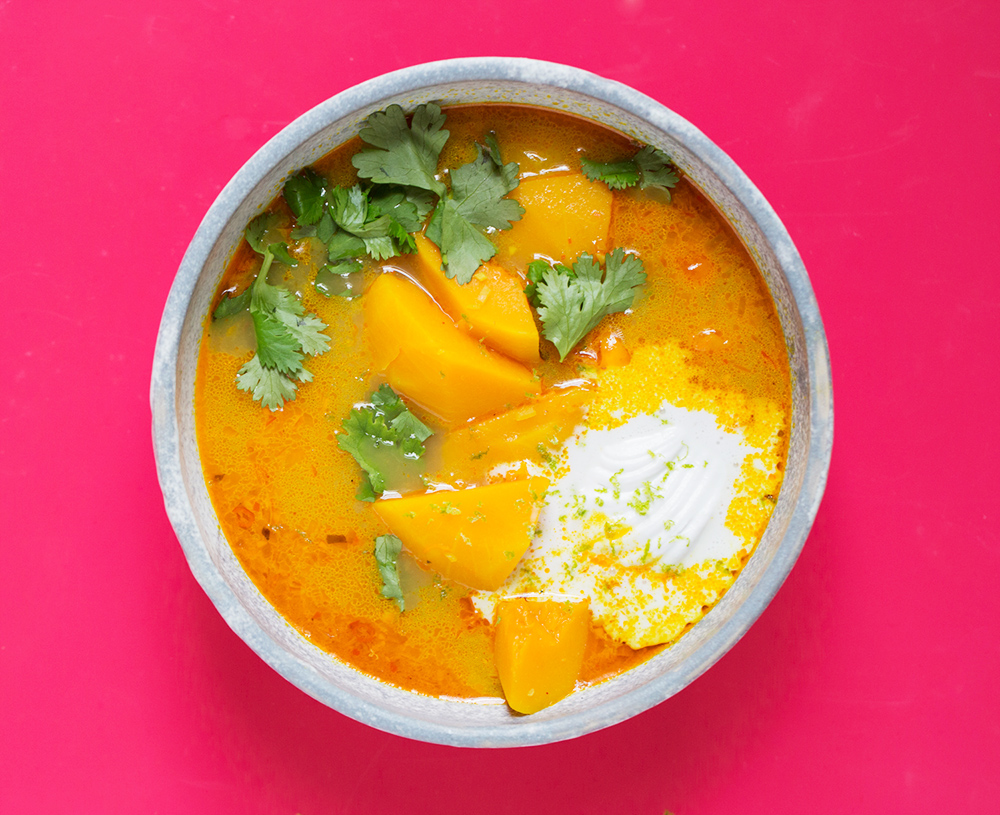 Thai Coconut Soup
Ingredients:
1 tbsp coconut oil
1 tbsp minced garlic
1 shallot, minced
2 tbsp minced ginger
1 Thai bird chile, de-seeded and minced
1 tsp turmeric powder
1 tsp coriander seed, toasted and crushed in mortar and pestle
1 stalk lemongrass (optional)
½ tsp kosher salt
2 cups butternut squash, cut into 1" chunks
1 quart chicken or veggie broth
1 tbsp + 1 tsp fish sauce
1 tsp Thai red curry paste
½ cup cherry tomato
1 can coconut milk, put in fridge overnight or freezer for 15 minutes)
2 limes
Cilantro and fresh basil
Do ahead (optional): Place can of coconut milk in the freezer for 15 minutes to make the cream and the liquid separate.
Instructions: In a medium saucepan, add coconut oil, garlic, shallot, chile, ginger, turmeric, coriander and salt. Sauté over medium heat until fragrant, about 5 minutes. You don't want to brown the ingredients, so if they start to brown add a splash of broth to hydrate.
Remove outer layers and the top half of the lemongrass and discard (we want the fatter root-end for the soup). Make two crosswise incisions in the stalk to reveal the inner layers, keeping the root-end in-tact. You are trying to create more surface area to infuse the broth. Set the root on a kitchen towel and pound with the back of the knife or small cast iron pan. This releases the fragrant oils.
Add squash and lemongrass to the pot, and stir to coat with spice mixture.
Add broth, fish sauce and curry paste and bring to a boil. When the soup starts to bubble, reduce to a simmer, add tomatoes and cook for an additional five minutes, or until the squash is for-tender.
While the soup simmers, scoop the coconut cream into a small mixing bowl. Using a hand-mixer, whip on medium speed until you reach the consistency of whipped cream. Add 1/2 cup of cream to the soup, and reserve the rest for garnish.
Portion soup into individual bowls, add one tablespoon of coconut cream to to the top of each. Garnish with lime zest and a handful of cilantro and basil. Serve with lots of limes on the side so you can season the soup to taste.
Enjoy!