I couldn't wait to interview Alyssa Coscarelli when we were scheduling our shoots for my last trip to New York. The 20-something is a gem in her field and just happens to be one of the nicest and most genuine humans I've met. It's funny, we had this interview scheduled over a month in advance and just a few days before my trip, I was at an event here in Nashville and I heard an unfamiliar voice call my name. When I turned around it was Alyssa. She was in town briefly for work and happened to attend the same event I was at — crazy! She's a petite little thing, standing at 5'1″, and I just happened to be wearing one of my tallest pairs of heeled boots bringing me to a cool 6'3″. We said hello, chatted briefly, and then hugged with a humorous "See you soon," before parting ways.
A week later my managing editor and I are in NYC and had just finished the first photo shoot on day one. We stopped for lunch at my favorite spot in Soho, Jack's Wife Frida, and you'll never guess who walks in just as we were served our food — it was Alyssa. Another chance meeting that I took as a sign of good things to come. Hellos and hugs followed and the next day we're knocking at the door of her East Village apartment. Our meeting was casual, as most of them are intended to be. Shoes off with camera in hand, hopping from bed to couch to counter top, while conversing about common interests and everything else under the sun — just the way I like it. Here's a look at our afternoon well spent.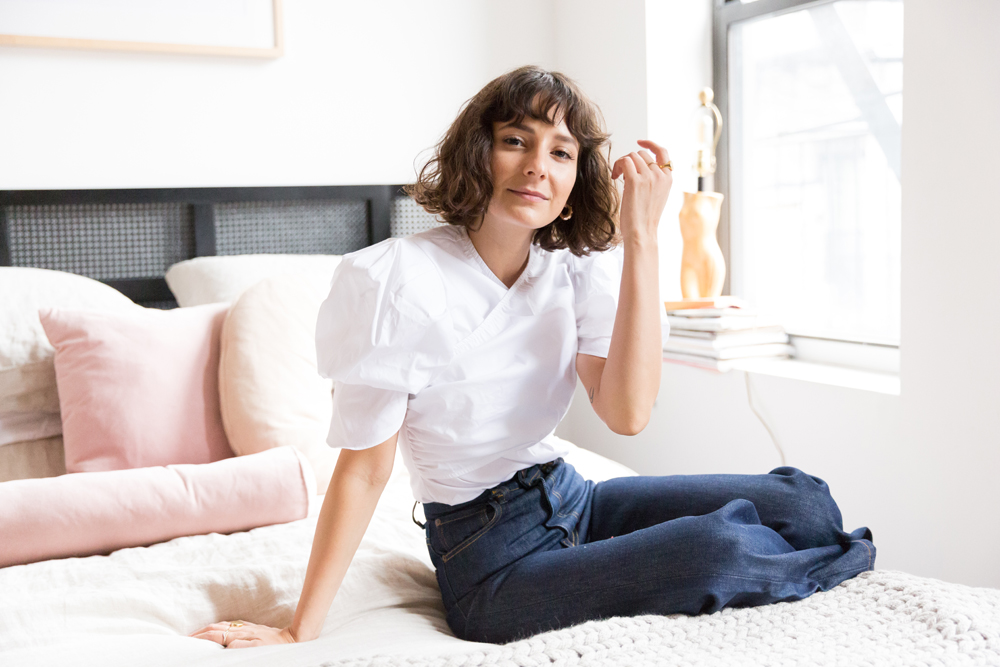 Favorite way to spend a day off?  "My days off are all about recharging. I like to sleep in a bit, go to one of my favorite workout classes, grab a brunch with a good friend, maybe sit outside somewhere if it's nice out, or hit some local vintage shops or boutiques. Clean the apartment, do a face mask, maybe an afternoon nap, then some takeout and a movie in bed."
What does self-care look like for you when you're off-duty?  "Sleeping, eating, reading, repeat."
Can you name a few favorite things in your home?  "Since this is the first apartment that was truly my own to decorate how I wanted to, I really tried to find special pieces that I can keep and love for a long while. One of those is my bed frame [now sold out], which was a collaboration between CB2 and a design house from Spain. It's really special and people ask about it nonstop since it often shows up in the background of my Instagram photos. I also really like my artwork, it's a mixture between generous gifts that have been given to me (art makes a lovely gift!), and framed prints from young artists or flea markets. They really give my space a touch of my personality."
Where do you shop for home decor?  "My home is a mix of CB2 and West Elm, and Home Union, Dobbin St. Co-Op, and Adaptations NY (three great vintage furniture stores in Brooklyn)."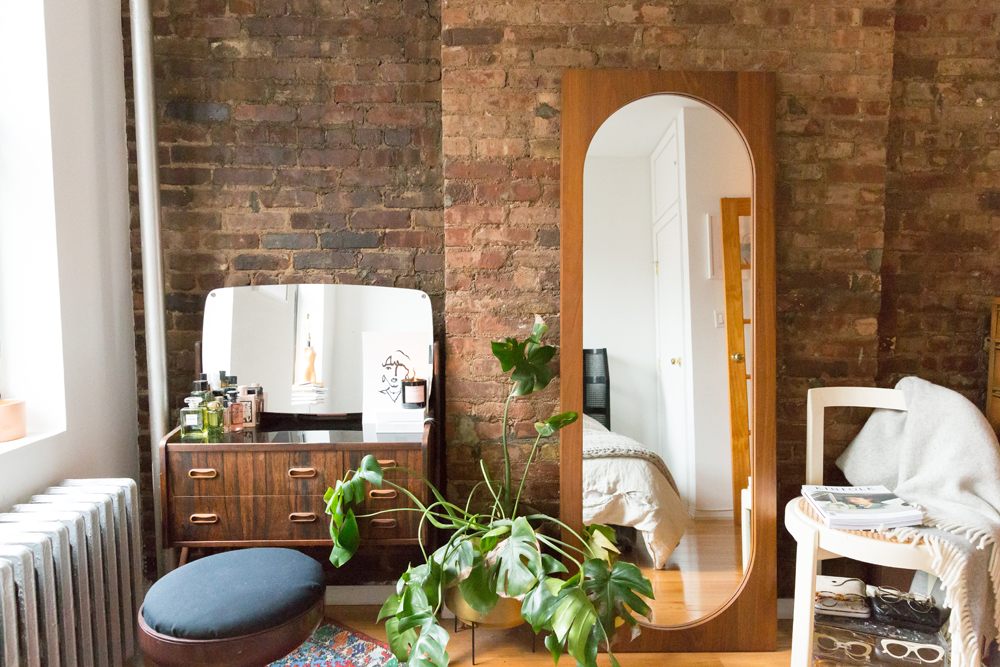 What's your secret to living in a small space in New York?  "Be picky about the artwork and furniture you bring into the space, be constantly purging and reorganizing, get clever and think out-of-the-box with storage, and candles! ALL THE CANDLES!"
What are some of your favorite candles?  "Since my apartment is so small I really rely on candles to set the mood and keep the space smelling nice despite any food smells, etc. Le Labo, Boy Smells, P.F. Candle Co., Otherland Co., and Keap Brooklyn are all mainstays."
Coffee table books or magazines you love?  "I love discovering new or indie magazines at McNally Jackson bookstore or magazines stores in NYC like Soho News International or Bouwerie Iconic Magazines. I especially love The Gentlewoman, Kinfolk, Puss Puss Mag, System Magazine, i-D, Sporty and Rich, and hard copies of the New Yorker. My coffee table books mostly have to do with fashion and photography."
What's your sign?  "I'm a Libra, Capricorn rising, Virgo moon."
What are your hobbies?  "Fitness is a big one for me; exercising is important to me not only physically, but mentally and emotionally. It's how I deal with the stressors of living and working in New York City. I also love going to the movies (yes, even by myself), reading, and vintage shopping or antiquing at flea markets. I hope to pick back up some prior hobbies, like drawing, improving my foreign languages, and maybe even something in the realm of music. I grew up playing instruments (piano, violin, clarinet), and really miss that discipline."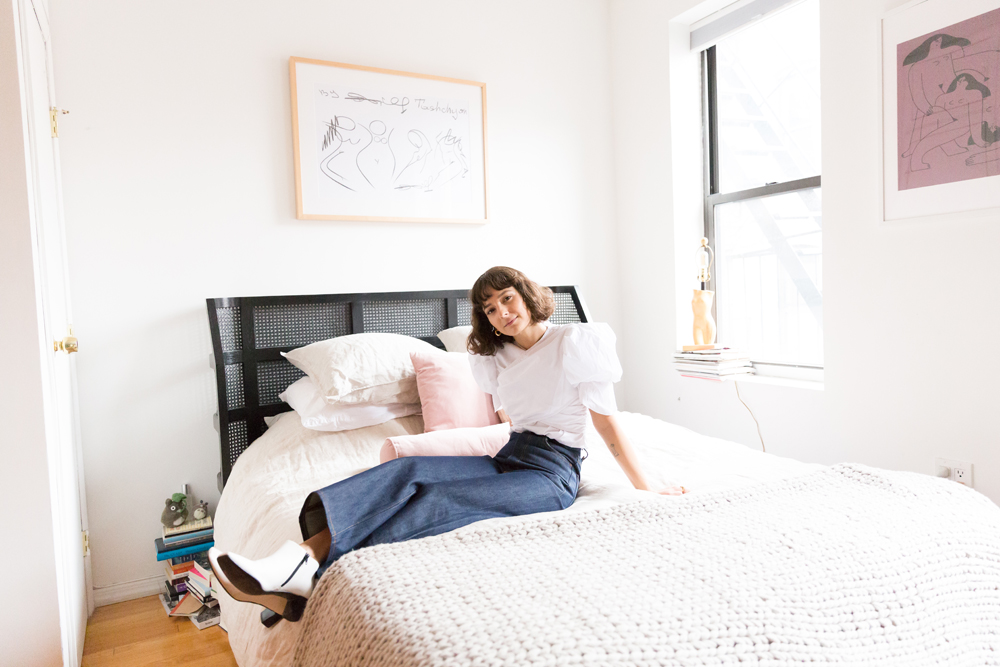 Night in or night out? How do you spend it?  "Night in, for sure. I'll draw a bath, listen to my favorite music, order in something delicious, answer emails, or read a book or magazine. Ideal."
What's on your bedside table?  "Nothing too glamorous, honestly. Some tissues, a humidifier, a lip balm, a bottle of water. I do have a couple room sprays, one by Aesop and one by Osea, that I also like to spray on my sheets and rugs every now and then."
Favorite Netflix series/shows/movie?  "I don't actually watch a ton of Netflix. But my favorite series in recent memory is The End Of The F*cking World. I loved the acting and the costumes and the writing, really all of it. And I hardly ever binge-watch things, but I finished that show in one sitting. So that's saying something."
Song on repeat?  "Alaska by Maggie Rogers."
Any must-read books?  "Big Magic, A Little Life, The English Patient, The Glass Castle, My Brilliant Friend."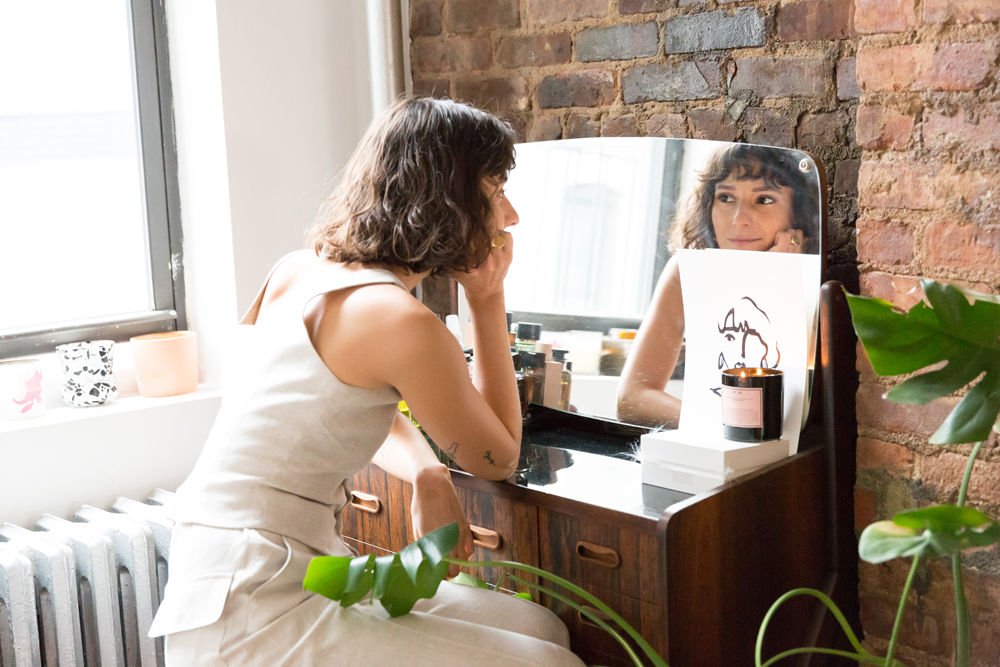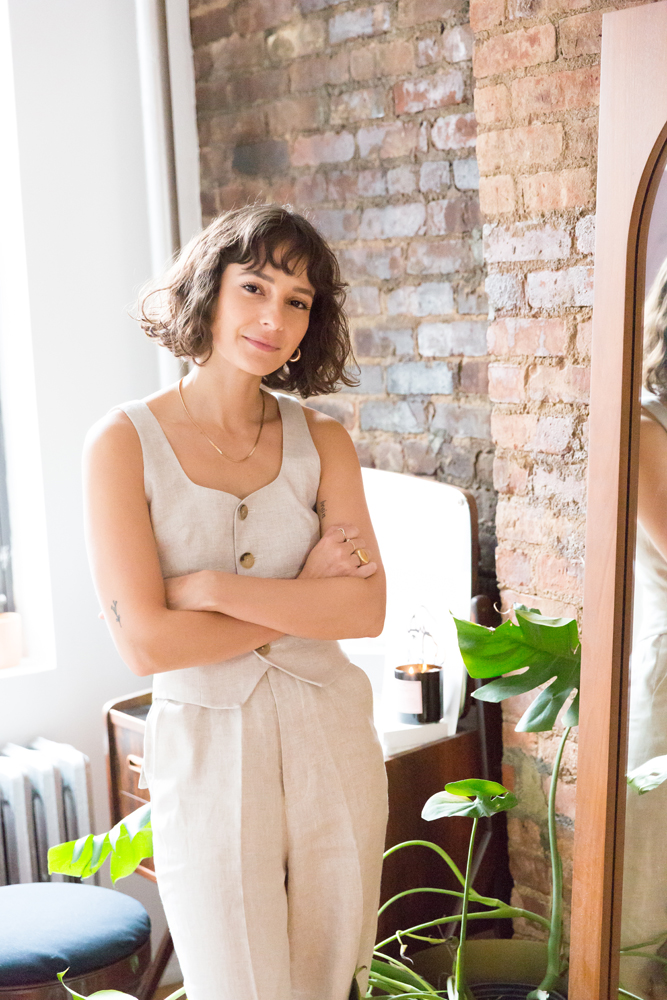 Breakfast/brunch of choice?  "I'm a regular at a restaurant called The Smile and I always order the scrambled eggs with buttered toast, a light side salad, a side of sausage and/or avocado, and a fruit salad with honey and mint. That with an oat milk latte is the perfect brunch according to me."
Coffee or tea?  "Oat milk lattes all the way! Hot or iced depending on the season."
What's your go-to dinner recipe when at home?  "Does Postmates count as a dinner recipe?"
It does! What's your regular Postmates order?  "Often chicken enchiladas with rice and beans from my local Mexican restaurant."
Favorite local restaurant?  "I love the pomodoro and tiramisu at Bar Primi with a glass of pinot noir. Also, Ess-a-Bagel for my favorite NYC bagel, but be prepared to wait in line!"
Your most-loved kitchen gadgets?  "I love BKR water bottles, and my dishware and glassware are a mix of HAY Design and flea market/antique market finds."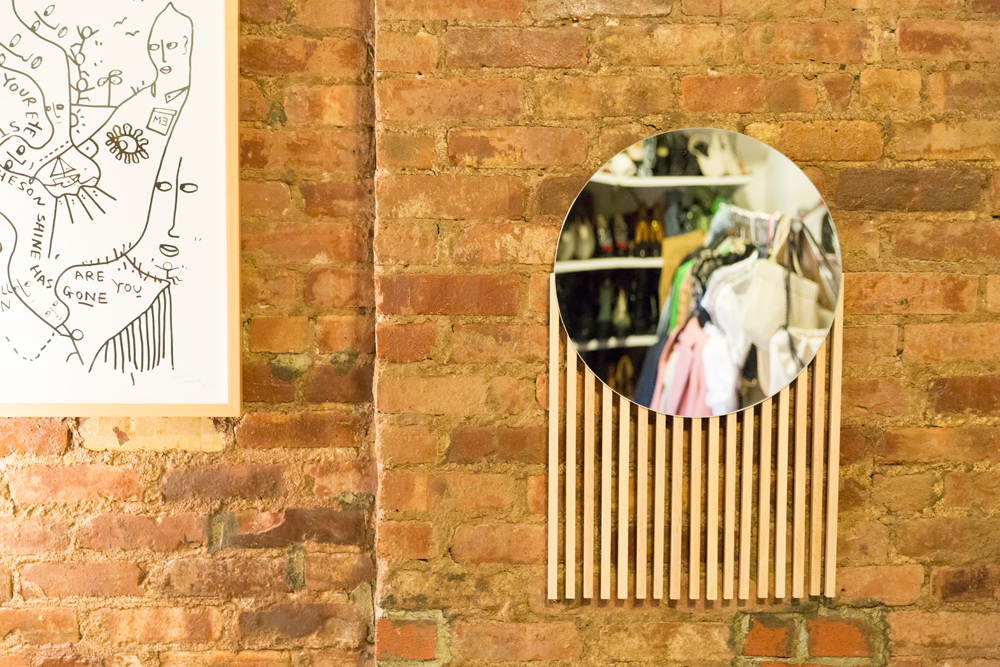 Any supplements you take/magic elixirs you make or swear by?  "I love incorporating kombucha into my routine whenever possible! The ginger-lemon flavor from Health Ade is my go-to."
How do you stay in shape?  "I try to workout 3-5 times a week, on a good week. My favorite class by far is SLT, followed by The Class by Taryn Toomey and Y7 Yoga. I also love a HIIT class with Nike or at Project by Equinox, or barre at Fithouse. I dabble at New York Pilates, Wundabar, Soul Cycle, and Rumble as well."
Describe your personal style.  "Trend-chasing, vintage-inspired, quirky."
What do you wear when you're spending the day comfortable, at home, and off-duty?  "Usually an oversized t-shirt, underwear, and socks. I'm big on granny panties. I literally buy them in packs from K-mart, haha. Sometimes in the winter or after a shower, I'll wear a silk robe. I like to get ready in it or lounge around. My favorite is a striped one from Sunday Forever NYC.
What's the one thing in your closet you would save in a fire?  "The first Céline bag I splurged on for myself."
What trends are you loving this season?  "Definitely still vibing with a chunky, grandpa sneaker and have been for the past couple of seasons. I also love shoulder pads, oversized blazers, huge door-knocker earrings, and anything '80s-inspired at the moment."
You have three minutes to change: what do you wear?  "Vintage Levi's, some kind of statement blouse, gold earrings, black booties, and a classic handbag."
Who, what, where inspires you most?  "My friends and my travels definitely have a heavy hand in influencing my style, but I also love any vintage style inspiration from the '60s, '70s, or '80s. I also save a lot of inspo in Instagram. I have a saved board called 'Looks to try.' [Laughs]"
What's on your want list?  "Anything old Céline, lots of hair clips and barrettes, and the Buttercup Shrimps bag"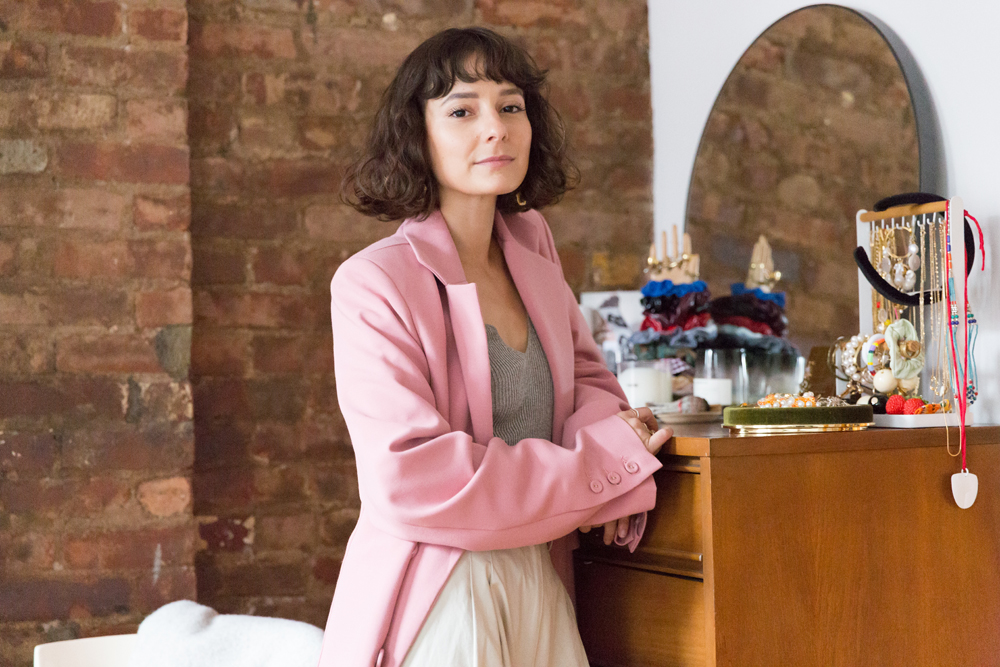 Your first luxury purchase?  "The Acne shoes I'm selling on Bleu [stay tuned for details!] were actually one of the first luxury splurges I remember! I really didn't spend much or invest in luxury often until maybe a couple of years ago. I remember finally deciding to go into the Acne Store and buy those sneakers I'd been lusting after. I felt like such a grown-up doing it. Plus, they felt justifiable since they were sneakers (wearable!) and under $1,000. They were the perfect entry point to the luxury world."
What do you have way too much of?  "I have way too many shoes, as evidenced by my shoe wall. I also 'collect' coats…and purses. All of it really! I like to call myself a collector because it sounds better than hoarder — ha!"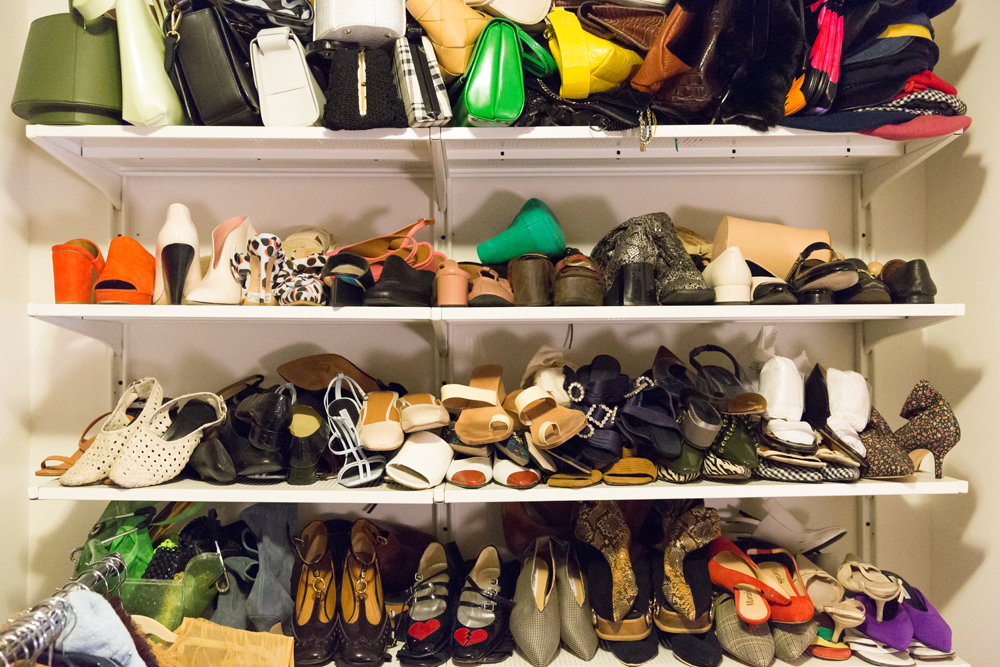 Your five wardrobe staples, go…  "White chunky sneakers, high-waisted mom jeans, white tees, gold jewelry, and a carry-all leather tote."
Favorite 3-5 designers/brands and why?  "I feel like this is always changing, but right now, I'll say: Sandy Liang, Saks Potts, Acne Studios, Chanel, old Céline, Prada, and Miu Miu. Sorry, I just couldn't leave 'em off!"
Very favorite online shop? "Need Supply Co."
Now, tell us about the one you keep a secret. "Stylenanda Korea."
If you could raid one person's closet, who's would it be? "Pernille Teisbaek."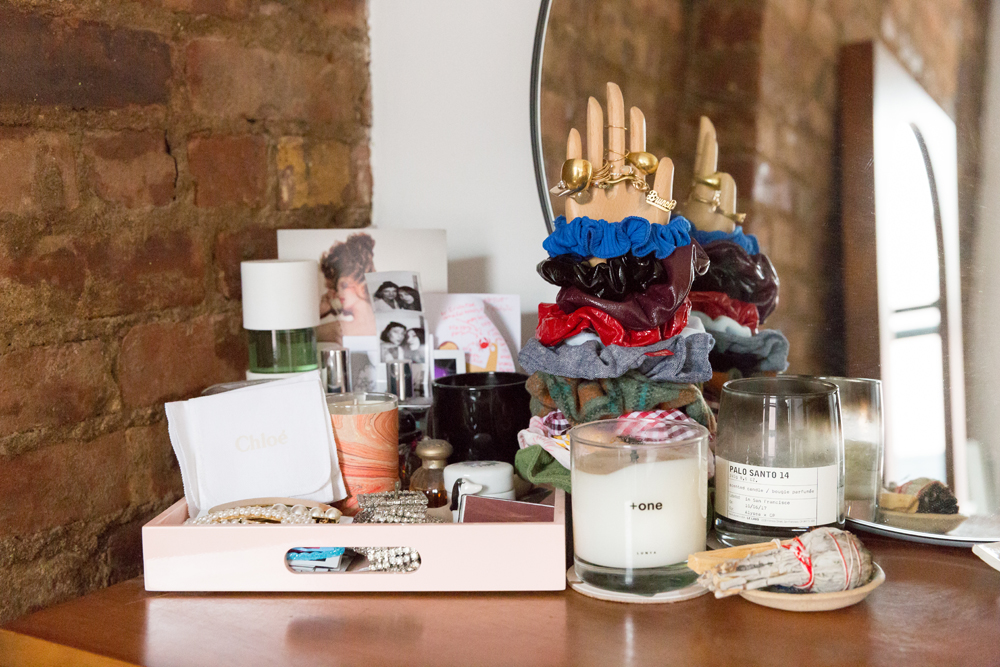 What are the pieces you tend to spend the most on?  "I spend a lot on coats because they tend to be pricier, but are also good investments for New York living. I don't spend a lot on tights because they always rip, and try not to spend too much on sunglasses because they're also easily lost or damaged."
Favorite spots to buy vintage clothing in NYC?  "There are so many great ones! Definitely The Break, Either And, Duo, 10 ft. Single by Stella Dallas, Awoke Vintage Brooklyn, What Goes Around Comes Around, Vintage Twin, and Procell."
Tell us about what you do for work.  "I recently left my full-time editorial job of five years at Refinery29 to go freelance, so now I'm freelance fashion writing, consulting, and focusing on my 'personal brand.' I'm starting a website of my own, and I love collaborating with brands big and small in various capacities. Sometimes I style and wear their clothes, other times I consult for them on business, creative, or overall strategy."
How did you get your start in fashion?  "I always knew my path was in the realm of fashion, so I came to New York City to attend LIM College with a major in Fashion Merchandising. I did a bunch of internships and worked many jobs until I landed an internship at R29, which eventually turned into a job and led me to where I am today."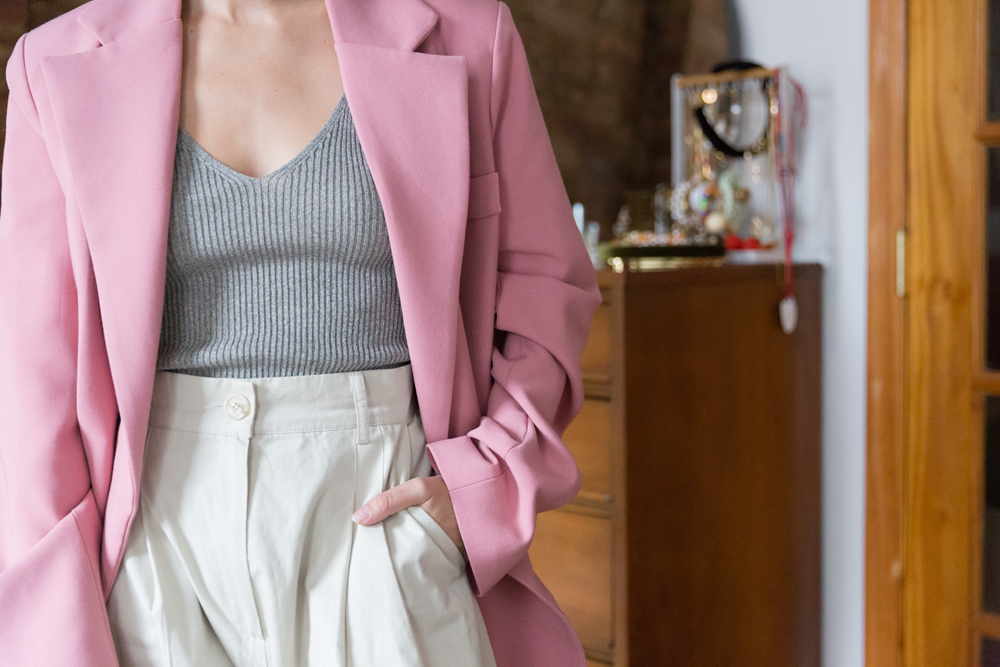 Tell us a bit about your transition from editorial into freelance. Was it a difficult decision to make?  "Absolutely. I agonized over it for months, but ultimately my personal brand and personal work was growing so much that I had to make a decision. So far, no regrets! Sure, freelance is an entirely new world to figure out, and it's stressful in new ways, but nothing compares to being your own boss, making your own schedule, and being able to focus your time and energy into what you're truly passionate about."
What's one of the things you love most/biggest perks about working for yourself?  "Making my own schedule. I'm a night owl, so I'm often quite productive in the evening hours. It's nice that I can work late if I feel like it, and sleep in a little later if I want to."
On the flip side, what's something no one told you about going freelance?  "It's a weird phenomenon when suddenly no one is holding you to your responsibilities or goals except for, well, you. You really have to take initiative, be your own boss, and hold yourself accountable, or you'll take one too many naps and days off — ha!"
Your secrets to staying productive?  "Schedule your time effectively using an agenda or Google Calendar, set short-term and long-term goals for yourself, get a good night's sleep whenever possible, and stay aware of time-sucks like Netflix and Instagram."
What attributed to your success?  "I think genuine authenticity and true passion go a long way, paired with a solid work ethic and being in the right place at the right time."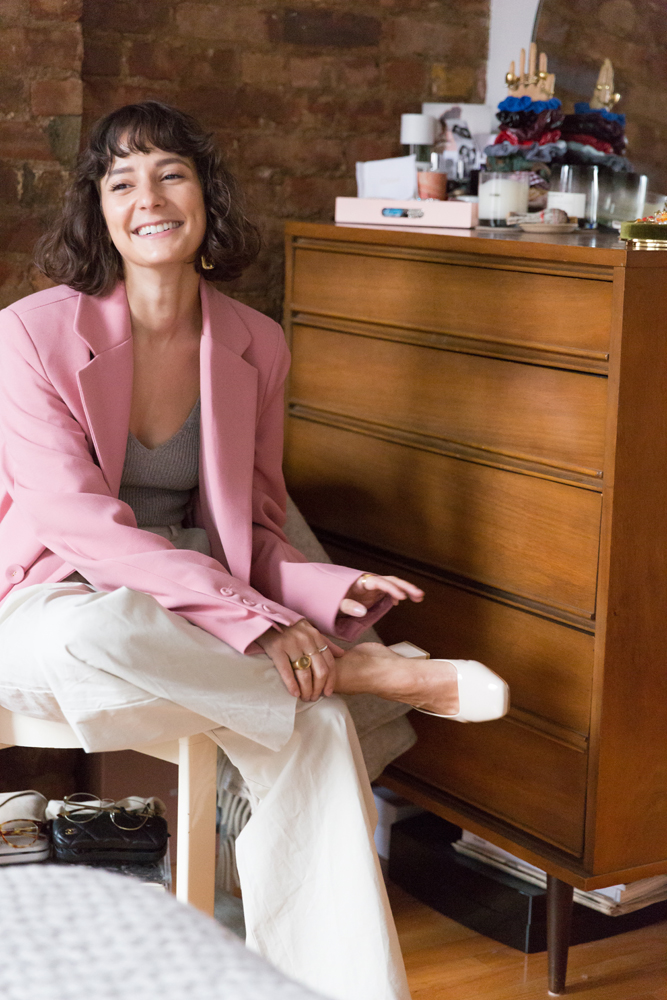 Describe a typical freelance work day.  "There is no typical day! But, usually they'll involve a workout class, a shoot of some sort (either with my best friend Lauren or a brand or a photographer), lots of meetings and coffees with brands and PR agencies, showroom visits or events, and hopefully some solid time on my laptop at The Wing answering emails and getting some work done. Still trying to figure out the best way to structure my days and balance it all!"
Do you ever feel burnout in such a competitive field? If so, how do you combat it?  "I have to admit I don't experience burnout all that much. I love what I do, so I'm grateful not to hit too many walls, but when I feel uninspired, I try to work out and have a good sweat, pick up some inspiring print magazines to flip through, or read books or articles or listen to podcasts that have nothing to do with my field. I also find traveling to be one of the best things for offering perspective and preventing burnout. You just have to do what works for you, whether that's unplugging or meditating or sleeping or eating or reading."
Top three pieces of advice for others looking to break into the industry?  "Meet as many people as possible to foster relationships and connections, try as many different jobs, roles, or hats as you can until you find the ones you like and the ones you don't, maintain your authenticity and what makes you, you."
Any exciting projects or collaborations that are on the horizon?  "I'm excited for the launch of my personal platform, as well as some really cute design collaborations throughout the year. Can't wait to share more soon."