I first came across thirty-something Jewlie Williams when she appeared — like an uber-chic, fun-sized pixie — in a photo with the Bleu's now-good friend Alyssa, who just so happens to be Jewlie's best friend, too. I could tell almost instantaneously that she had great taste, but more than that, she seemed undeniably friendly, like someone I could sit in a face mask on the floor with and talk to about all my favorite things — horoscopes, the Academy Awards vis-á-vis Timothée Chalamet, yummy food — without judgement. I also noticed she had recently been married, and I could not stop obsessing over the modern, minimal, warm twist. It was one of those events that held an extra special twinge of thoughtfulness, something I knew I wanted to be present in my own wedding that was coming up at the time.
Fast-forward a few months, a quick Instagram follow, and a few friendly DMs, and we're now bonafide Internet friends — one of the more beautiful sides of social media, if you ask me. And, just as I suspected, Jewlie is filled with so much kindness and truth, and has just as many amazing Austin recs as I thought she might. To read today's All Eyes On, might we suggest throwing on a quick face mask and grabbing some dark chocolate, then you'll be armed all set and ready in true Jewlie fashion. This one's all about comfort, living life colorfully, and embracing who you are.
Instagram handle:  @hellojewlie
Location:  Austin, TX
Originally from:  Clarkston, MI (a town so small the main street that runs through it is literally called Main Street), but also Manhattan for eight years before Austin!
Occupation:  General Manager at Understated Leather
Tell us a bit about yourself.  "Why is writing about yourself so hard!? Feel like I'm having an existential crisis trying to put myself into words — haha! I was born and raised in Michigan, but moved to New York City at 18 to attend NYU, where I double majored in Journalism and Art History. I always knew my heart was in fashion, so I ended up getting a BBA in Fashion Merchandising from LIM College as well and worked as a freelance fashion stylist for eComm and catalogs most of my time living in the city. I had a hunch 10 years would be my limit in New York, so when my partner moved to Austin, we dated long distance for two years before I decided to move there as well. Spoiler alert: we're married now, so it's a happy ending! All of my life I have been creative. I danced from ages  five to 18, I did a lot of community theater, I was really into journaling and collaging. I was always looking for an outlet. Now, I get most of my creative energy out through Instagram. I post a lot of beauty products, outfits, and (probably too) many selfies, but I've also become really open about my struggles with anxiety and depression on my Instagram, and have found such a supportive community there. I just turned 30 this year, and I feel like I'm starting this whole new chapter of my life and really focusing on figuring out who I am and what I'm doing on this planet."
Favorite thing about living in ATX?  "It's really tough because there's so much I love about Austin, but I have to say it's the people. Southern hospitality is real! Maybe it's because I came from New York (where people get a bad rep, not many New Yorkers are rude, they're just in a hurry), but the way strangers greet you on the street and ask you how your day is, it's just so nice! You never feel like a loner or a stranger anywhere because everyone is open to having a conversation with you. Just the other day, I was getting a manicure alone and the girl sitting next to me asked me my opinion on what color she should get. The next thing I knew, I was showing her my wedding photos, telling her spots to visit in New York, following her on Instagram. We just became friends in that little 45-minute window, and that's the perfect little snapshot of how friendly everyone in Austin is."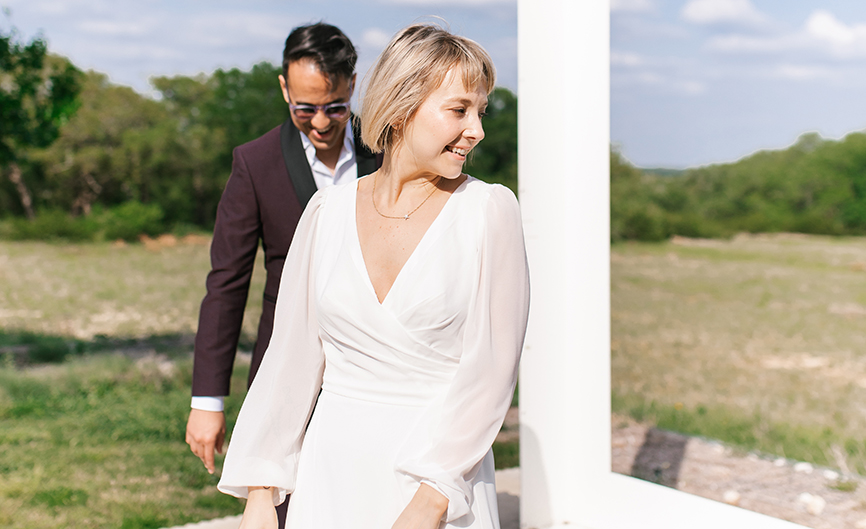 You recently got married! (Congrats!) What was the planning process like? Any tips for future brides?  "Thank you!! We took about a year to plan our wedding, which was the perfect amount of time for me. Overall, I would describe myself as a chronically anxious person with control issues, so it was important that I didn't feel rushed. I was never one of those girls with a wedding Pinterest page or anything, so getting started was overwhelming. Just figuring out what I wanted was maybe the hardest part! I would say the beginning stage of planning, when I hadn't figured anything out, was the most stressful time because everyone would ask me questions about the planning process. When I didn't have the answers, I would freak out. But, once we were about three months into planning and I had a more defined idea of what I wanted the wedding to look and feel like, I definitely started to feel more confident. It's crazy, I mean almost every bride is planning a wedding for the first time, you really have no idea what to expect! To future brides out there, I would say, don't be afraid to trust your vision. I did NOT want a cookie cutter wedding, I didn't feel connected to anything 'wedding' or 'bridal' and that was really hard at first because those were most of the options I was presented with. We didn't do a lot of the more traditional things that are expected, and embracing that was definitely key. At the end of the day, I wanted the day and the event to feel like me! Stick to your guns; don't let anyone else dictate what you do. And also, don't be afraid to ask for help! We hired a month of wedding planner, but also paid to have her help us ten extra hours between the time we hired her and the month of to help me do things that I didn't know how to do (hire a shuttle bus) or things I didn't feel passionate about (silverware options) and that really allowed me to spend time and energy on things I was excited about, and I didn't have to get stressed about things I didn't care about."
What's your approach to style?  "Comfort and ease are key for me! Anything that is fussy or requires outfit planning (i.e. needs special undergarments, only looks good with one shoe, etc.) will not be found in my closet. I really only buy clothing from a select few places because it's reliable! I want to be able to just stick my hand in my closet and know that whatever I pull out will look and feel amazing on me, and that I won't have to give it a second thought. I am that person that gets dressed every day in five minutes or less. And, I won't lie, that's because I basically have three or four general looks. I used to like to experiment with my style a lot, but honestly as I'm getting older, I find it's just easier to know what works for me and stick to it."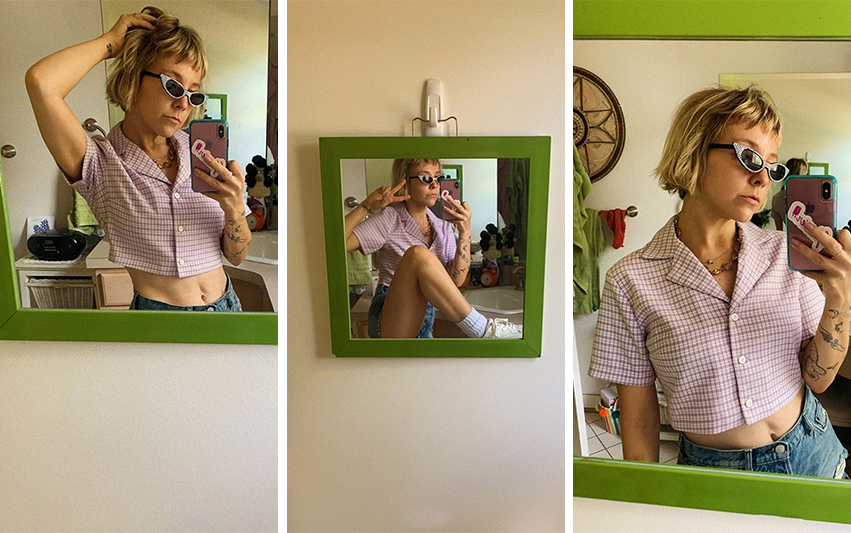 Signature look / everyday uniform?  "I have two. If I am going to workout right after work, I just wear Outdoor Voices head to toe. Yes, I drank the OV Kool Aid and I'm never looking back. I like to wear the Warm Up Shorts with an Athena Crop and the Hoka Clifton's, and then I usually throw on an oversized long sleeve tee or sweatshirt as a warmer layer, while I'm at the office. Every other day of the week, catch me in vintage Levi's, white sneakers, and a white top."
Favorite designers?  "Susan Alexandra, Sandy Liang, Ganni, Miu Miu, Staud, Selkie — anything that has a bit of a playful energy to it."
What's on your want list?  "Susan Alexandra Merry Crossbody Bag, Dior Lip Glow in Raspberry, Sandy Liang Apple dress, Catbird's Summer In Italy candle"
Favorite local ATX shops?  "Olive, Aro, Passport Vintage, Blue Velvet, Yummi Joy (I am obsessed with candy), and Book People."
Fave online shop?  "I feel like I'm the only one, but I don't really like online shopping! I prefer to go to a store and touch everything and see it in person, but I do love shopping on The Real Real. I love the thrill of the hunt when it comes to vintage, so I can always spend hours on The Real Real just browsing and getting inspired."
Favorite small brands discovered on IG?  "Bliss and Mischief is hands-down my favorite small brand, period. Hillary makes the perfect tees. I must have at least 10 t-shirts from her brand. Every detail is perfect: the fit, the distress, the fabric, the design. It's all locally made in L.A. I could go on forever. The Rose Milk is another gem I found through Instagram! All of their silhouettes look so effortless and feminine."
Favorite shops to shop for home decor?  "There are tons of great vintage home decor spots in Austin. Room Service Vintage is one of my all-time favorites! And, a friend of mine recently opened one up called Open Invite and her curation is to die for."
Cult beauty product?  "Paula's Choice 2% BHA Liquid will keep your skin smooth and clear like nothing else!"
Favorite local boozy drink of choice?  "I love the Cherry Pop from Bar Peached!"
Favorite local cafe or restaurant and menu item of choice?  "My husband and I must go to Bouldin Creek Cafe at least once a week, and have been since I moved to Austin four and a half years ago! I'm mostly vegan and my husband is dairy-free, so this entirely vegetarian / vegan friendly spot is our go-to. It also helps that it's five minutes from our house. I think just about every staff member recognizes us, because we order the same thing every time! You know when you find that thing on the menu that's so good that you just can't not order it? That's me and the Kool Hummus Sandwich. Grilled ciabatta bread, homemade hummus, tons of veggies and sprouts and their famous chipotle pesto. Do yourself a favor and get it with the tofu bacon — you won't regret it. If you want to get it full Jewlie-style, get the kettle chips as your side and ask for the basil aioli for dipping."
Go-to dinner party recipe?  "I'm going to be completely honest and let you know I'm a horrible cook. [Laughs] I am great at picking out recipes and making grocery lists, but my husband does the majority of the cooking. I am the queen of desserts though, and I make a mean raw vegan blueberry cheesecake. You can find the basic recipe here and then you can add in any fruit or other flavoring you like!"
What's always in your fridge?  "Oatly and hummus."
Fave on-the-go snack?  "Dill Pickle Almonds — they're Whole Foods 365 brand and if you are a fan of pickles, you can thank me later."
Tell us about what you do!  "I work for a local Austin fashion brand, Understated Leather. The brand is a little country, a little rock and roll. I'm the general manager of the business, which basically just means I have my hands in everything from logistics, managing our small team, writing copy for our website, sourcing inspo, to designing pieces. You name it, I'm probably doing it (except anything to do with finances, thank goodness). I started as a part-time assistant to our owner about three years ago, and within my first four months, I became the only full-time employee. About a year after that, I stepped into my current role as GM. My day to day is always different, but I would say my job is 50% right brain and 50% left brain, and I really enjoy that. I also have a lot of freedom and am essentially my own boss, which I appreciate."
Current album / song you're listening to?  "Mark Ronson's new album, Late Night Feelings! Such a good album to put on at home alone, light some candles, have a dance party in your PJs and just feel yourself."
Currently reading?  "I am an avid reader, but my preferred genre is YA (young adult). I think it's because we feel everything so deeply when we're teenagers and coming of age, and I'm extremely emotional and sensitive, so I feel most at home with a character who feels like everything that's happening to them is the be all, end all of everything. Such a sense of possibility and wonder in many YA characters that I aspire to get back in my own life. All that to say, I'm currently re-reading one of my favorite YA books, The Disreputable History of Frankie Landau-Banks by E. Lockhart."
What's your sign?  "Aquarius Sun, Gemini Moon, Capricorn Rising."
What inspires you each day?  "Knowing the sun is out there rising and setting every damn day, Lizzo's Instagram stories, and my husband. In that order."
Tell us about your tattoos! Any stories behind them?  "I honestly have a story for every single one, but each tattoo sort of marks a specific time in my life — a trip, a friendship, a place, a job. My best friend Alyssa and I literally get tattoos every time we're together now. I took her to get her first tattoo and then it kind of just became an unofficial thing we started doing together. We have a few matching ones. The first we ever got together were little crescent moons. We got our sun sign constellations. We recently got matching 'sister' tattoos on our ankles. It's like she's always with me, even though we live in different states now. The very first tattoo I got started as a half joke on Facebook. I drew a tattoo with a Sharpie marker on my wrist and posted in on my friend's wall and was like, 'should we get tattoos when you're in town visiting me? Only kind of kidding!' Then, less than a week later, she took me to get my first one. It's funny because I never grew up wanting tattoos or really being around anyone with tattoos, but it's become such a part of my identity. It really changed when I met @tealeigh. They opened me up to the idea of having a sleeve that was a collection of smaller tiny pieces that I feel connected to, kind of like a scrapbook on my arm."
What's a recent movement (political, economic, social) that you think everyone should be supporting and why?  "This is tough because there are SO many things happening in our world right now that are disheartening and require more attention (#blacklivesmatter #metoo, LGBTQ+ rights, the conditions of detention centers and reuniting families at the border, and so many more) but the state of our planet keeps me up at night. We are swiftly approaching a point of no return when it comes to climate change and that is just wild to me — that we could reach a point in my lifetime where we won't be able to stop or prevent the inevitable. We only have one planet and every single tiny act adds up, so please recycle, buy a glass straw, stop using plastic in every way you can. Whatever habit you can sustain will make a difference."
Favorite apps you use on the reg and how they help you?  "I check Co-Star basically every day. You haven't lived if Co-Star hasn't dragged you via a 'Your Day At A Glance' notification. I love to add people on there, so I can compare our astrology charts. I also love The Pattern. For those that aren't familiar, honestly just go download it and get ready to have your mind blown. It's another astrology app that goes really in depth about your personality, and it's so on-point. I love checking the world updates because it lets you know energetically what's going on with everyone, everywhere. The other app I use all the time is the Goodreads app! I use it to track all of the books I'm currently reading, what I want to read next, and I rate and review everything I've read. It's a really fun way to get book recommendations and see what other people are reading."
Favorite Netflix / TV series at the moment? "Big Little Lies season two — an already perfect show, now with Meryl Streep."
What's your morning routine?  "I am so incredibly lucky that I do not have to wake up to an alarm clock every morning. My husband gets up before me and wakes me up with the gentlest nudges, and I can't think of a more perfect way to wake up. I start the coffee maker, get breakfast going, and give our cat Meatloaf some treats. I make a really good vegan bulletproof coffee (1 Tbsp. vanilla MCT oil from Whole Foods, a dash of cinnamon, and a splash of Oatly) and we sit and have breakfast and coffee together. Once my husband leaves for work, I like to snuggle Meatloaf for a little bit and catch up on Instagram. Then, I do my morning skincare routine, get dressed, and head to work. I really like to have a long, relaxing morning during the week. It just helps me feel more mentally prepared for the day. Nothing worse than starting the day off rushed."
Any grounding practices or rituals you have set in place?  "I have two that I'm really serious about. Every Tuesday morning I go to CYL Sauna Studio, which is a local infrared sauna spot. There are numerous benefits with infrared heat, but I've found it most helpful for keeping my skin clear and my anxiety at a low. I spend 30 minutes in the infrared sauna pod, put my phone on 'do not disturb' and listen to a podcast (I'm currently listening to Lacy Phillip's Expanded podcast). I always walk out of the studio feeling refreshed, reenergized, and like I can take on anything. After my session, I go to Juice Society and grab an avocado pesto toast (literally the best avocado toast in the world, don't @ me until you've tried it!) and an iced adaptogen latte to go, and head off to work. The other practice is my dance class. Anyone who knows me personally, or follows me on Instagram will know how important my weekly dance classes are to me. One of my closest friends in Austin, Melody, started her own dance workout classes a couple years ago, and it's basically my therapy. She teaches three times a week, and it is so much more than a workout. She is one of the most inspiring and empowering women I have ever met. She donates a portion of her proceeds for every class to Dress for Success, so not only are you getting a good sweat in, surrounded by supportive women (and men!), you are also donating to an amazing cause. I can't explain to you how good this class makes me feel. I laugh, I cry, I scream — it's transformative. It has lifted me out of some of my darkest times."
Guilty pleasure / necessary indulgence?  "Dark chocolate and Keeping Up with the Kardashians."
Night in or night out? How do you spend it?  "Night in with dark chocolate and Keeping Up with the Kardashians! [Laughs] And also, at least one face mask, maybe two if I'm feeling wild."
Any cool spots in Austin worth mentioning for out of towners to check out?  "Town Lake Trail, Room Service Vintage, JoAnn's Fine Foods and the Austin Motel pool, Hank's, and Barton Springs!"
You have a free day all to yourself. What do you do with it?  "Sleep in, have coffee in bed, do a face mask, read a book in the sun, hit up my favorite vintage spots, lunch at Curcuma (my favorite Ayurvedic food truck), go to a fun workout class, take a long shower, call my mom, light some candles, and watch a movie under my weighted blanket."
What's on the horizon for you?  "Going to Hawaii for the first time ever in August to DJ a wedding with my husband! He does some all-vinyl DJ gigs on side, and he's teaching me how to use the turntables and everything, so we can do the set at the wedding together. Then in October, we're finally going on our honeymoon for two weeks! We're headed to Japan for the second time (we got engaged there last year) and South Korea for the first time. I've been dying to go back to Japan pretty much since the day we left last year. I could actually see myself living there for a short stint. It's such an incredible country, I can't wait to see more of it."