For those unacquainted with what an adaptogen is, we understand. It sounds eerily similar to one of Joe Rogan's psychedelic kryptonites and everyone is talking about them, but rarely are they explaining what the hell they are and why the wellness community is so wild about them. If you can't tell a Macuna Prurien from a macaroon, here's a quick cheat sheet: an adaptogen is defined as a tonic herb or restorative plant dating back to ancient Chinese herbal medicine that works to bring the body into a state of balance. Said to heal from the inside out, these various holistic herbs have been linked to aiding the body in adapting to common stressors like soothing anxieties and skin inflammation to boosting metabolism and libido, just to name a few. So, yes. They are kind of like Joe Rogan's psychedelics, just without the bad trip.
One who is well-versed in all things adaptogenic is Nitsa Citrine, artist, alchemist, photographer, and Creative Director of Sun Potion Transformational Foods. We've been following Nitsa's #APotionADay adventures for quite some time now, and asked her to share her go-to potions for morning, noon, and night. Bottoms up!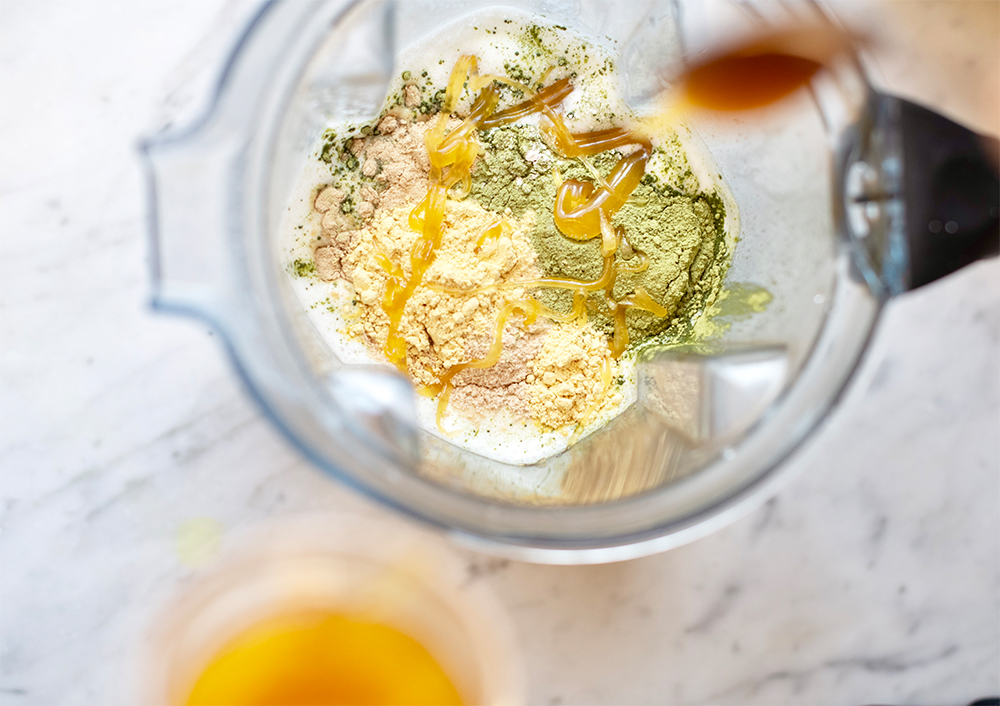 Morning:
Adaptagenic Matcha with Fresh Macadamia Creme
"My daily morning potion for  immunity, creativity, beauty and sustained energy!"
Serves 2
Ingredients:
2 tsp. White Dragon Matcha
1 tsp. Pine Pollen
½ tsp. Reishi Mushroom
½ tsp. Cordyceps Mushroom
½ tsp. Ashitaba
½ tsp. Pearl
6 oz. Hot Water
12 oz. Raw Macadamia Nut Creme (or homemade raw / sprouted nut or seed milk of choice)
Instructions: 
Add adaptogenic powders, macadamia milk, and raw honey to high speed blender. Blend for 30-45 seconds. Then, add the warm (not boiling) water and pulse another 10 seconds until frothy with love… Serve in your favorite matcha bowl.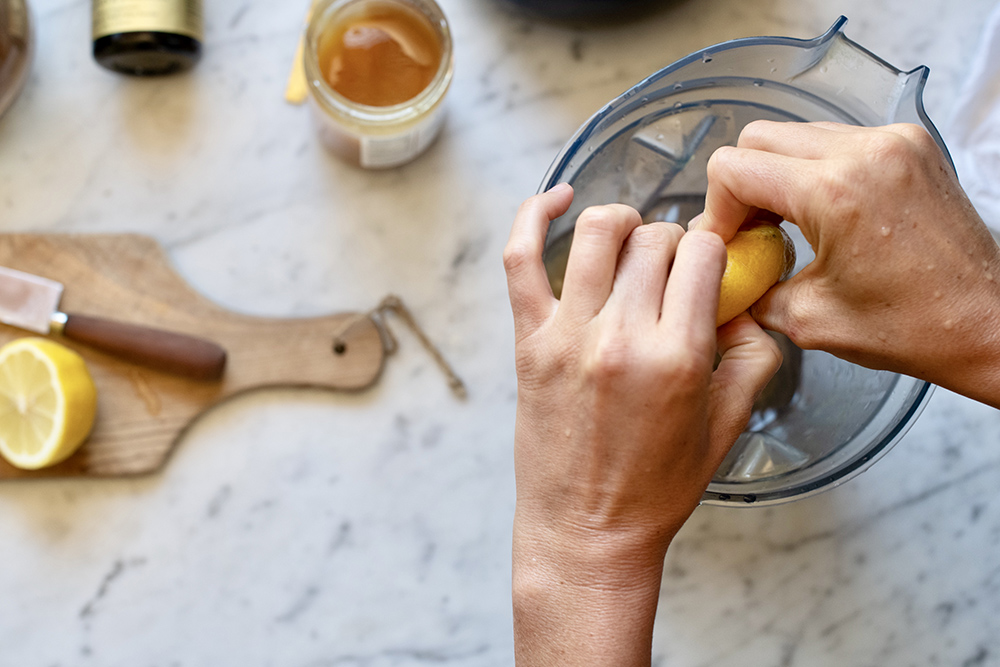 Afternoon:
Pine Pollen Lavender Lemonade
"A hydrating, alkalizing, relaxing, yet subtly energizing elixir for the warmer months — using our Pine Pollen which is my favorite aphrodisiac herb for inspiring creativity and elevating the mood. This is a great one for company!"
Serves 3-4
Ingredients:
3 tsp. Pine Pollen
1 tsp. Turmeric
2-3 Tbsp, Raw Honey (more or less depending on desired sweetness)
5-6 lemons, squeezed (or juiced)
32 oz. Brewed Lavender Tea
Ice cubes (optional)
¼ Lemon peel (optional)
Instructions:
Pour hot water over 1.5 Tbsp. loose lavender blossoms (in teapot) and brew for 2-3 minutes. Tip: If you want the lavender flavor to be stronger, you can steep longer. If it becomes too strong, you can cut it with water.
Once tea is steeped, pour into blender and add the pine pollen, honey, and turmeric. I can be a little lazy and will squeeze the lemons directly into the blender. If you have a juicer, you can juice them, then add to the tea. You can add a little peel or zest for extra citrus flavor.
Blend on medium-high for 30-45 seconds. Taste and notice the texture to make sure the peel is fully blended (if using peel) and that it is not too sour or sweet. Refine by adding more lemon, water, or honey if needed. Once the taste is perfect and the texture is smooth, add to a pitcher and chill in fridge. Serve in a slightly chilled glass or over ice, garnish with lavender and lemon wedges.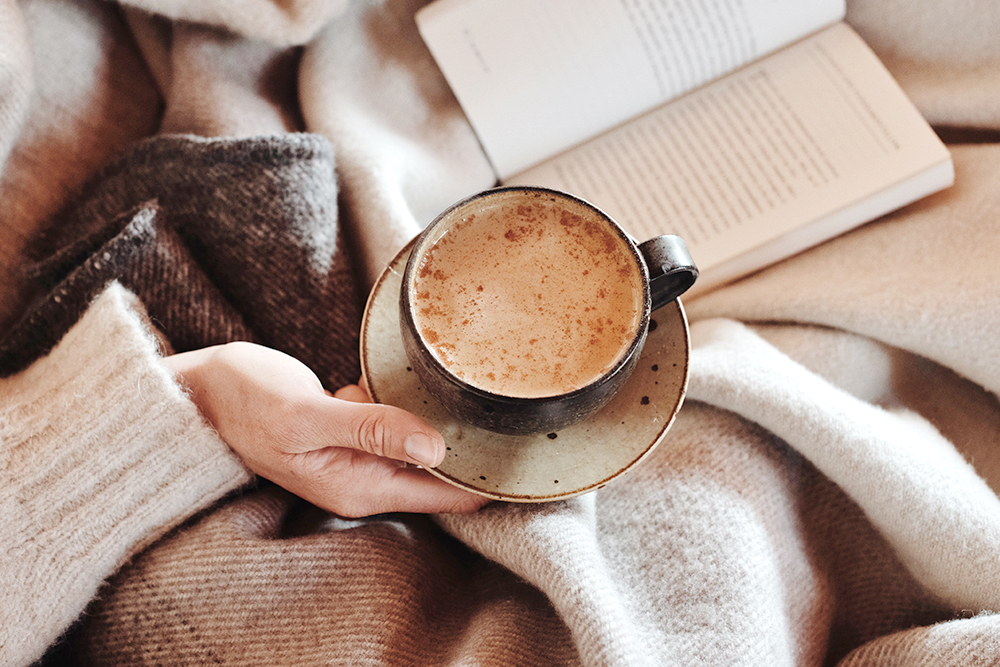 Evening:
Dreamtime Tonic
"A soothing tonic to support adrenals, hormone balance, mental calm, deep sleep, and immunity. I love to sip while reading in bed — perfect way to ease into dreams."
Serves 2
Ingredients:
1 tsp. He Shou Wu
1 tsp. Mucuna Pruriens
1 tsp. Reishi
2 Tbsp. Jasmine Tocos
1 Tbsp. Coconut Oil
1 tsp. Raw Eucalyptus Honey (or local honey of choice)
16 oz Brewed Tulsi Rose tea
Instructions:
Add the tea, adaptogenic powders, coconut oil, and raw honey to high speed blender. Blend 30-45 seconds until frothy with love. Serve in favorite mug.